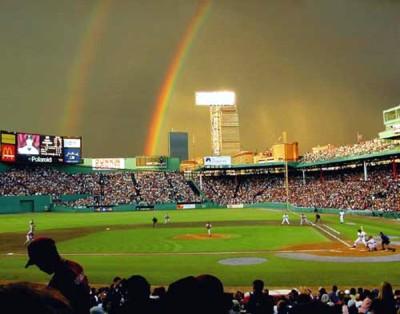 I must admit to getting pretty mushy about baseball, especially at this time of year. I remember as if it were yesterday when my Dad would take me to see the Greensboro Yankees in the 50s and 60s, and I brought my glove and caught a foul ball. I remember watching Mel Stottlemyre and Tommy Tresh and other stars on their way up to the majors. There was something special about a sport which could unite a whole family. Where you could take plays off to go get a hot dog. Where every single game someone would ask you to stand and sing the national anthem. Where during the seventh inning stretch we got to stand and sing the same silly song that Babe Ruth or Cy Young once sang— 'take me out to the ballgame'. There was something special about sitting with my Dad watching ole Dizzy Dean on the Game of the Week on TV. Nobody but nobody was collecting basketball cards or football cards, but every kid was a card carrying kid in my neighborhood. I remember the day I got my first Sandy Koufax card, a man like me born on Dec. 30, and like me he threw left handed and batted right handed.
I remember being told that baseball was like life….. if you do really well one out of three times, you can be in the Hall of Fame. In baseball you have to cope with more failure than success and keep going. It's the only major U.S. sport where the defense has the ball at the beginning of every play. It's the only major sport that is untimed. It's the only major sport where the player without a ball, not the ball or the ball in the hands of a player scores. It's the only major sport where the object is always to go home, and the greatest way to do that is by means of the home run. There is also no other sport that involves as much strategy, hand signals, signs, and as much arbitrariness since every pitch has to be called a ball or a strike by an umpire. The human element is everywhere present in this game. In any given game you can see something you have never seen before in a baseball game. And this game is played with all sorts of equipment. I'm not just talking balls, I'm talking all shapes and sizes of bats, gloves, hats, catcher's gear, resin, pine tar, to mention only a few items. Baseball is the only game where the fans are so important they get to keep the ball, or even sometimes a bat, if they catch it in the stands.
Like life, baseball doesn't have a pathetic little 16 game regular season, or even an 82 game season. This sport begins when the frost is still on the ground, and ends when the frost is once more on the ground. 162 regular season games for each team, however good or bad they may be. Only the dead of winter is exempt from baseball playing. You can legitimately talk about the baseball season in the singular, but what you mean is spring, summer, and fall. Hopes rise in the spring with the beginning of spring training, and die when the leaves fall off the trees, if not much sooner. I will never ever forget my first game in Fenway Park, or in Wrigley Field, or my World Series day in Atlanta. Shoot I even remember good times in the Jake close to the Lake in Cleveland, where I saw Nomar Garciaparra hit a rocket in the playoffs and Pedro Martinez pitched his heart out as my friend Richard Hays and I cheered our hearts out.
I also remember sitting on the floor in the house in Ashland, weeping in 1986 when my Red Sox managed to snatch defeat from the jaws of victory in the World Series. Can you say Bill Buckner? Equally, I doubt I will ever cheer as loudly or weep as many tears of joy as when I watched the Red Sox beat the 'darnnnnn' Yankees four straight to go to the Series and break the curse in 2004. All those graves in dear old New England which have as their epitaph— 'I didn't live long enough to see the Sox win the Series'. And I was there in 1975 when Fisk hit his incredible wave it around the foul poll homerun near the Monster against the Reds in Game 6 of one of the greatest World Series ever. If only Luis Tiant could have pitched game 7 too……
Yes I love my Tar Heels basketball team with an unconditional love, but I've seen them win five championships in my lifetime. World Series victories are so much harder to come by. Like life, it takes a team effort, it takes a long time, it takes a lot of blood, sweat, and tears of both sorrow and joy. And no one does it alone…. No one. Take a moment to ask yourself, how many great basketball movies have there ever been? (O.K., I'll give you Hoosiers). But there are so many wonderful, wonderful baseball movies—- Field of Dreams, the Natural, It Happens Every Spring. I could go on and on.
Baseball is the quintessential American game, originated in this country. And as I tell my British friends, if you really want to understand America's never say die, hope springs eternal, underdog loving spirit, you need to understand baseball. If you want to understand why all the uproar about steroids and the like in baseball, it's because baseball has a purity to it which should not be besmirched, it is the talisman of our innocence, our youth, of the spring of who we are, were, shall be.
If you have never seen it, you should watch Ken Burns wonderful documentary about baseball, and you may just learn a lot about your country, and about its spirit, and about yourself. I know I did. You learn a lot about a person when you discover what they are passionate about. In the meanwhile, you should watch this World Series, not least because it has two surprise and unlikely teams playing in it. Two teams which have perennially been loveable losers, and in the case of the Rangers, have never won a playoff series. Never.
In the shadow of the Golden Gate Bridge, and in old Arlington stand two rather new cathedrals with verdant fields of green where the boys of summer will play for all the marbles this fall. This may not be worship, but it can be euphoria. It may not be about religion, but it is about loyalty and devotion, and hoping that the future will be better than the past. It may not be about truth, but it is about beauty, and grace and skill and style and speed, and amazing plays–web gems. You learn a lot about a people by the games they play—- so play ball. It's so much fun.