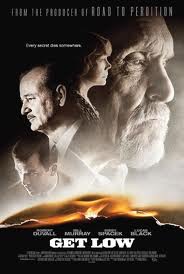 I have, for as long as I can remember, been an enormous fan of Robert Duvall. Even in his first cameo role as Boo Radley in To Kill a Mockingbird, he was something special. I have loved his various cowboy and cop roles, especially loved him in The Apostle, and couldn't get enough of his performance in the made for TV mini-series Lonesome Dove. Honestly, I think he is the best actor America has produced of my generation or a little older. And when you throw into the mix Sisey Spacek, Bill Murray, Bill Cobb, Gerald McRaney and other top drawer actors, you have yourself one heck of an all star cast.
As if all that were not enough, you also have an interesting script about a hermit from Caleb County who wants to have a funeral party while he is still alive, and he wants to speak at it! Though the trailers for this movie might make it appear to be largely a comedy, it is certainly not that, in any superficial sense. It is a serious movie about life and death and forgiveness, and it has some very memorable lines like 'gossip is the Devil's radio', or 'I don't know why I need to ask Jesus' forgiveness, I never did anything to him', or 'though people like to think that good and evil are world's apart, in fact good and evil are all intertwined'. A good man can do evil, and even an evil man can occasionally do good. Life is complicated.
This movie is set in far western Tennessee, in a mythical Caleb County. The soundtrack is all bluegrass, a bluegrass band plays at the funeral party, and the closing credits are graced with a song by Allison Krauss about being buried. On top of that, 'Maddy' (played by Spacek) says she moved out west to St. Louis for a while, and when Felix Bush goes north to find his minister friend he ends up in southern Illinois. The movie has something of the feel of 'O Brother Where Art Thou' set in the southern piny woods in the 30s but it is a much more serious movie than Clooney's movie. In fact this tall tale is based on a true story, the story of Felix 'Bush' Brezeale who famously threw himself a parting party, a living funeral, in Roane County Tennesse in 1938 drawing one of the largest crowds ever assembled to that point in American history. The thing about the movie Felix is that while he appears to want to find out how people will remember him, what he really wants is to set the record straight about himself, and his previous 'notorious' behavior. He wants a coda before his denouement.
Emily Dickson once said
My life closed twice before its close;
It yet remains to see
If Immortality unveil
A third event to me,
So huge, so hopeless to conceive,
As these that twice befell.
Parting is all we know of heaven,
And all we need of hell.
In a sense this is what this story is about. Felix Bush wants to bring his life to a close, but not before he gathers together all those who have some sort of story to tell about Bush himself. The device used to assemble the multitude is a raffling off of Bush's 300 acres and a mule (and a home-made house) with contestants sending in $5 each. This produces an enormous response, and a huge crowd turns up at the funeral party. But in the end, it is Bush who tells his own story, and asks those he believes he most offended in life forgiveness. This is a powerful story, and it also involves interesting roles for two different clergymen.
For thinking Christians this movie is a must see on so many grounds. Shoot, just to see Bill Murray play a whimsical devil may care funeral director as the comic relief to Duvall's seriousness is worth the price of admission. My experience has been that Christians tend to merely nod politely at the prospect of mortality, and don't really engage the subject very profoundly, perhaps because they believe they have everlasting life. However, Christianity at its best does not involve the denial of death, but rather the belief that there is a greater reality in the world than death, namely God the Living One, and also that resurrection triumphs over death, trumping it, even though death appears clearly to have a winning hand.
As you can tell, I loved this movie, as it deals in ultimate things at a profound level, and unlike most of the drivel that came out this summer calling itself a movie when really it was a 'film' in the sense of something that covers reality with dust or dirt, this one is surely worth all the time you can afford to give it and reflect on it. It is too bad it was only given a limited release, and a low budget in terms of the advertising. I would say the opening screen that preceded the movie had it right— this is a Sony Classic Film. At an hour and 40 minutes, this movie definitely goes by much to fast……rather like life. It is also like the line in one of the first poems I ever memorized—- 'Life and death upon one tether, and running beautiful together'
Lest you think I am just making up another southern tall tale about a movie that is based on a tall tale, here is a portion of a news article by Sydney E. Roberts published in 1984 about this very matter—
"The Roane County Banner had leaked the news to the
outside world that 74-year old Uncle Bush Breazeale planned to have a
full funeral service on June 26, 1938 while he was still alive and could
enjoy it. The idea caught on. The power of the press was soon in
evidence as the news spread like wildfire nation-wide. His "funeral"
plan was reported nationally by the Associated Press and the UP, and
photographically by Life magazine.
The funeral on June 26th attracted the largest crowd ever assembled in
Roane to that date; the estimates ranged from eight to twelve thousand
people. Cars from at least fourteen states were backed up for two miles
from the two Cave Creek Baptist Churches built side by side (one
Primitive, the other Missionary) to highway #70. enterprising
John Cook charged 25 cents per car to park in his field. He
was reported to have taken in $300. Vendors from soft drink trucks did a
flourishing business. Hot dogs sold well. Knoxville and Chattanooga
florists shops sent floral offerings. By 2:00pm the crowd was in place.
The press was represented by reporters and cameramen from the
Knoxville News Sentinel and Journal, Chattanooga Times, News and Free
Press. Young
Don Whitehead who was to become a war correspondent, and two time Pulitzer winner was there.
The funeral cortege was late due to the traffic jam along the road.
At last the Hawkins Mortuary (of Loudon County) hearse arrived bearing
the home-made walnut coffin, and Bush in the front seat. The crowd was
so eager to get a glimpse of him that officers had difficulty in
clearing a lane for the pallbearers to carry the coffin to its place in
front of the tent on the Churchyard. Children were held high by their
parents so they could see. Ten persons fainted from the heat and
excitement. Uncle Bush was seated in front of his coffin dressed in a
new suit, shirt, tie, etc. donated by Halls of Knoxville. For a period,
he was the center of attraction for cameramen who took pictures of him
and the crowd.
Songs were sung by the Friendly Eight Octette of Chattanooga. Fred Berry of Knoxville said "There's a Gold Mine in the Sky." the
Rev. Charles E. Jackson from Paris, IL, delivered the funeral
sermon. The festive atmosphere soon changed to fit the solemn occasion.
He said: "This service is not a bad idea. Much good should come from
a service divested of the usual tears and heartaches. It gives us an
opportunity to take thought of tomorrow and anticipate the great
adventure called death. Mr. Breazeale and I never intended anything but
that this should be a solemn service."
At the conclusion of the formal program, Bush shook hands with a
thousand or more friends and well-wishers. He autographed many
"official programs" by marking his *X*.
Bush said, "This will be my only funeral. It was the finest sermon
that I ever heard, and when I die there won't be another one."
Bush Breazeale was Roane's greatest celebrity. A few days later (July
4, 1938), he was dressed out in a
Harriman "Papermaker" baseball uniform and threw out the first pitch

in the double header between Harriman and Loudon. Shortly afterwards,
Robert Ripley featured Bush in his syndicated column, and took Bush to
New York City for a radio interview. When Bush got back from New York,
Mrs. Claude Johnson
said someone asked him, "Mr. Breazeale,
how did you like New York?" Bush replied, "Oh just fine. You know,
they were the finest folk, and treated me wonderfully, but to be honest
about it, their victuals wasn't worth a
dern."
And as a bonus, you will enjoy the interview of Robert Duvall which was in Christianity Today in July. Here is a link—–http://www.christianitytoday.com/ct/movies/interviews/2010/lowdownrobert-july-10.html.