And now the inside story about my trip to New Zealand (aka Middle Earth) can be told. I actually went down there to hire a couple of under cover Hobbits. Of course Hobbits are so small they can easily go under cover. Their mission on which I sent them? To gather any and all information they could garner on the forthcoming Hobbit movies as well as the next Narnia movie– The Voyage of the Dawn Treader. In regard to the latter, this required my contacts to stow away on a vessel bound for Queensland in Australia where this movie is being filmed. And those tricksy little Hobbits have begun to send me the fruit of their labors— I present you with 'The Dawn Treader' to which the finishing touches are still being applied.
This movie, they are hoping to get out by late summer 2010. It is interesting how the Narnia series was rescued, when Disney dumped them (apparently due to criticism of their editing out the more specifically Christian content from the filming of the first two Narnia movies). Walden Media picked up the series, but needed help with finances in these stressed out times, and so MGM/Fox came to the rescue as they were looking for a family friendly series to promote.
But my Hobbits did have one bit of success when it comes to the two forthcoming Hobbit movies– they discovered the poster or banner currently being used as they get ready to finish the casting and begin the shooting of the movies. I would expect the first Hobbit movie no earlier than Christmas 2010. But here is the banner they ferreted out of secret sources.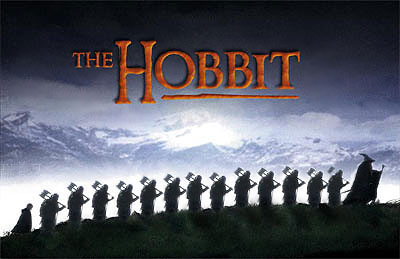 If you are wondering which Hobbits are in my employ I will give you a clue— they're the two that kept whining about second breakfast and nearly blew themselves up at Bilbo's birthday party. What did you expect me to do? I couldn't afford Frodo, and Samwise is much too busy with Rosie and the family. More in due course.