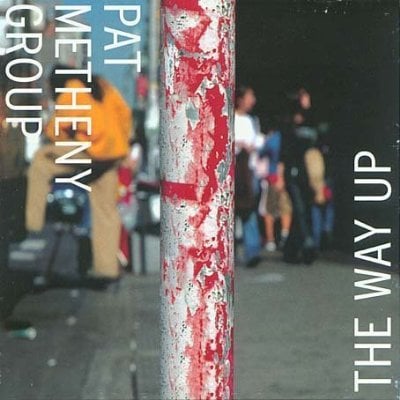 First let me clarify something. When I say 'jazz CDs' I am not referring to the jazz inflected pop played on most 'smooth jazz' stations. I have no problems with that sort of music, but its much closer to pop and even rock than it is to jazz and its sensibilities. When I say jazz CDs I am referring to either straight ahead jazz as it has been done since Miles and Trane and Evans, or I am referring to that slight variant called Jazz Fusion. So, three of the CDs listed below are not in mode of the classic jazz of the 50s and 60s, but they do fit the categories I am referring to.
1)
The Pat Metheny Group— The Way Up. This is a jazz symphony, and probably the best work of fusion jazz ever wrought. It's a masterpiece.
2)
Marc Johnson Shades of Jade–This one came out of nowhere, and is one of the best 'sets a mood' pieces produced in a long time. In this regard it is very much like the ultimate jazz classic and number one jazz seller of all time Kind of Blue.
3)
Brian Bromberg–Downright Upright This involves Brian, a fabulous bass player, choosing some of his favorite jazz tunes and giving them a fresh spin. Its pure fun from start to finish.
4)
Christian Scott- Anthem and Terrence Blanchard A Tale of God's Will (tie). Both of these remarkable works come as a musical response to the disaster that was Katrina and both are by musicians deeply rooted in New Orleans and both are ultra fine trumpet players, with Scott being a wunderkind, and Blanchard being a long time producer of movie scores.
5)
Roy Hargrove–Ear Food Maybe the best CD of any kind that appeared in 2008. Hargrove is yet another remarkable trumpet player and this CD is full of verve and juice and joy.
Honorable Mentions
If you're stuck on a desert island and they only allow you to bring recent real jazz, besides the five above I would commend: 1) Branford Marsalis' Eternity; 2) Toots Thielman The Brasil Project (doing justice to Brasilian Jazz). Originally recorded in 1992 and reissued; 3) Christian McBride and Inside Straight–Kind of Brown. McBride is multilingual when it comes to jazz and soul and rock and hip hop, but this straight ahead jazz CD which has just been released is his best effort of any kind; 4) The two Metheny Mehldau CDs (its too hard to pick between them. Brad Mehldau is without question one of the great young jazz pianists of this or any age, but it took working with Metheny to bring the very best out of him. A couple of years back this was one of the best jazz tours ever; 5) Michael Brecker— Pilgrimage. And for guitar fans, I would say that you need at least one John Scofield CD to keep you bumpin' along— of his more recent oeuvre I like Works for Me, best (not least because of the all star line-up which includes Metheny and Mehldau and Christian McBride and Kenny Garrett. Also lots of fun and funky is his a Go Go CD (or try Bump).
Wait you say— what about jazz vocalists? I'm glad you asked. There are frankly no new Tony Bennetts out there (no Michael Buble does not count). As for female vocalists I can certain commend several, especially Diane Reeves (try her soundtrack for Good Night and Good Luck) and by all means listen to some of the jazzier stuff of Liz Wright. Diana Krall is o.k., but she can't hold a candle to these vocalists or others such as Neena Frelon. And if you were wondering about Chris Botti, he has yet to do a serious jazz CD, but he has a nice Mile-ish tone when he plays the muted trumpet.