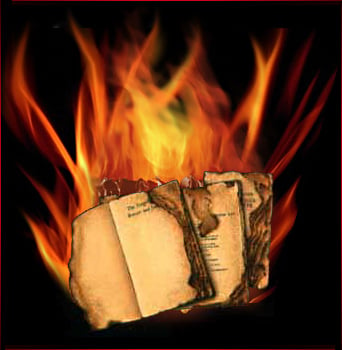 Picture courtesy of http://images.google.com/imgres?imgurl=http://mycontemplations.files.wordpress.com/2009/03/burning_book.jpg&imgrefurl
In the what's the U.S. coming to department, we have now learned that the U.S Army has been burning Bibles in Aghanistan to prevent them from being given to Afghans and influencing them. This apparently has been going on for a while now and is not a recent development. Here is the link to the CNN story for you to check out—-
http://edition.cnn.com/2009/WORLD/asiapcf/05/20/us.military.bibles.burned/index.html?eref=edition
The Bibles in question were translations into Pashto and Dari, the two main dialects likely to be read by Afghans. Here is the gist of the story courtesy of CNN—
"The unsolicited Bibles sent by a church in the United States were
confiscated about a year ago at Bagram Air Base in Afghanistan because
military rules forbid troops of any religion from proselytizing while
deployed there, Lt. Col. Mark Wright said.
Such religious outreach can endanger American troops and civilians in the devoutly Muslim nation, Wright said.
'The decision was made that it was a 'force protection' measure to
throw them away, because, if they did get out, it could be perceived by
Afghans that the U.S. government or the U.S. military was trying to
convert Muslims,' Wright told CNN on Tuesday.
Troops at posts in war zones are required to burn their trash, Wright said."
Burn their trash? The Bible is trash? If you had any doubts that the official policies of the U.S. government are not particularly Christian, even during the Bush administration, you need look no further than this action. Real Christians would simply refuse to burn the Bible. That's even worse than burning the American flag. But let's hear what you think about all this. A special kudo to Ben Devan for sending me this story.