My friend and fellow blogger Mark Roberts has just posted the following, which I am copying to you. Check it out. BW3
——————-
By Mark D. Roberts | Thursday, April 24, 2008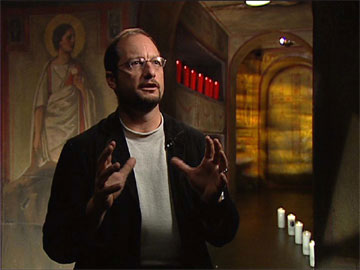 Beliefnet.com is hosting a fine "blogalogue" between Bart Ehrman and N. T. Wright on the problem of suffering. Ehrman, as you may know, has published the most recent installment in his series that might be called: "A Popular Scholar's Attempt to Get People to Stop Being Christians." This book is: God's Problem: How the Bible Fails to Answer Our Most Important Question–Why We Suffer. I have not read this book yet, but, given what I've read of what Ehrman has said about it, it certainly doesn't break any new ground. But Ehrman has the attention of the secular media (like NPR), and he's an engaging writer (for a scholar). So God's Problem will surely sell plenty of copies. (Photo: Bart Ehrman)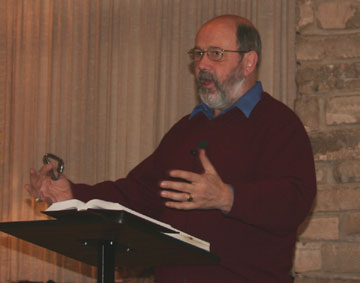 I can't think of anyone I'd rather have "blogaloguing" with Erhman than N. T. Wright. In this conversation, Ehrman is way out of his league, theologicially. More importantly, however, Wright's approach to suffering takes seriously the biblical narrative of salvation.
Here's what we have so far in the "blogalogue":
Ehrman: How the Problem of Pain Ruined My Faith

Wright: God's Plan to Rescue Us

Ehrman: What About the Actual Suffering?
document.getElementById("MsgContainer").innerHTML='\x3ch2 id\x3dEC_post-453\x3e\x3ca href\x3d\x22http\x3a\x2f\x2fmarkdroberts.com\x2f\x3fp\x3d453\x22 rel\x3dbookmark title\x3d\x22Permanent Link to Excellent Discussion on the Problem of Suffering\x22 target\x3d\x22_blank\x22\x3eExcellent Discussion on the Problem of Suffering\x3c\x2fa\x3e\x3c\x2fh2\x3e\x0d\x0a\x09\x3cp\x3e\x3cb\x3eBy Mark D. Roberts\x3c\x2fb\x3e \x7c Thursday, April 24, 2008 \x3c\x2fp\x3e\x0d\x0a\x09\x09\x3cdiv class\x3dEC_postspace2\x3e\x0d\x0a\x09\x3c\x2fdiv\x3e\x09\x0d\x0a\x09\x09\x09\x09\x0d\x0a\x09\x09\x09\x09\x09\x3cp\x3e\x3cimg src\x3d\x22http\x3a\x2f\x2fwww.markdroberts.com\x2fimages\x2fehrman-bart-5.jpg\x22 align\x3dright height\x3d270 hspace\x3d20 vspace\x3d5 width\x3d360\x3eBeliefnet.com\x0d\x0ais hosting a fine \x26quot\x3bblogalogue\x26quot\x3b between Bart Ehrman and N. T. Wright on\x0d\x0athe problem of suffering. Ehrman, as you may know, has published the\x0d\x0amost recent installment in his series that might be called\x3a \x26quot\x3bA Popular\x0d\x0aScholar\x27s Attempt to Get People to Stop Being Christians.\x26quot\x3b This book\x0d\x0ais\x3a \x3cem\x3eGod\x27s Problem\x3a How the Bible Fails to Answer Our Most Important Question\u2013Why We Suffer\x3c\x2fem\x3e.\x0d\x0aI have not read this book yet, but, given what I\x27ve read of what Ehrman\x0d\x0ahas said about it, it certainly doesn\x27t break any new ground. But\x0d\x0aEhrman has the attention of the secular media \x28like NPR\x29, and he\x27s an\x0d\x0aengaging writer \x28for a scholar\x29. So \x3cem\x3eGod\x27s Problem\x3c\x2fem\x3e will surely sell plenty of copies. \x28Photo\x3a Bart Ehrman\x29\x3c\x2fp\x3e\x0d\x0a\x3cp\x3e\x3cimg src\x3d\x22http\x3a\x2f\x2fwww.markdroberts.com\x2fimages\x2fwright-n-t-laity-5.jpg\x22 title\x3d\x22N.T. Wright Laity Lodge\x22 alt\x3d\x22N.T. Wright Laity Lodge\x22 align\x3dright height\x3d283 hspace\x3d20 vspace\x3d5 width\x3d360\x3eI\x0d\x0acan\x27t think of anyone I\x27d rather have \x26quot\x3bblogaloguing\x26quot\x3b with Erhman than\x0d\x0aN. T. Wright. In this conversation, Ehrman is way out of his league,\x0d\x0atheologicially. More importantly, however, Wright\x27s approach to\x0d\x0asuffering takes seriously the biblical narrative of salvation.\x3c\x2fp\x3e\x0d\x0a\x3cp\x3eHere\x27s what we have so far in the \x26quot\x3bblogalogue\x26quot\x3b\x3a\x3c\x2fp\x3e\x0d\x0a\x3cblockquote\x3e\x3cp\x3e\x3ca href\x3d\x22http\x3a\x2f\x2fblog.beliefnet.com\x2fblogalogue\x2f2008\x2f04\x2fwhy-suffering-is-gods-problem.html\x22 target\x3d\x22_blank\x22\x3eEhrman\x3a How the Problem of Pain Ruined My Faith\x3c\x2fa\x3e\x3c\x2fp\x3e\x0d\x0a\x3cp\x3e\x3ca href\x3d\x22http\x3a\x2f\x2fblog.beliefnet.com\x2fblogalogue\x2f2008\x2f04\x2fnt-wright-evil-unbelief-and-th.html\x22 target\x3d\x22_blank\x22\x3eWright\x3a God\x27s Plan to Rescue Us\x3c\x2fa\x3e\x3c\x2fp\x3e\x0d\x0a\x3cp\x3e\x3ca href\x3d\x22http\x3a\x2f\x2fblog.beliefnet.com\x2fblogalogue\x2f2008\x2f04\x2fthanks-tom-for-a-thoughtful.html\x22 target\x3d\x22_blank\x22\x3eEhrman\x3a What About the Actual Suffering\x3f\x3c\x2fa\x3e\x3c\x2fp\x3e\x0d\x0a\x3cp\x3e\x3ca href\x3d\x22http\x3a\x2f\x2fblog.beliefnet.com\x2fblogalogue\x2f2008\x2f04\x2fthanks-bart-for-your-response.html\x22 target\x3d\x22_blank\x22\x3eWright\x3a What It Looks Like When God Runs the World\x3c\x2fa\x3e\x3c\x2fp\x3e\x3c\x2fblockquote\x3e\x0d\x0a';
Related Topics
Uncategorized