A big party was coming up. I knew that the smart thing to do is plan ahead. If everyone else is eating high glycemic cake and with mounds of ice cream, I had better make provision for my runaway sweet tooth.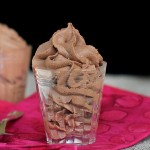 Time to try that chocolate mousse recipe I found on Pinterest. It's made with coconut milk and sugar substitute. This recipe has the earmarks of a winner. The main component is coconut milk, which is nutrient dense but is low/moderate on the glycemic index. The cocoa powder is very low glycemic and the alternative sweetener I used has an index number of zero. And it is easy to make. It also makes a great low-glycemic, sugar-free frosting.
So what went wrong with my plan? It was so good I ate the whole thing by myself in one sitting. Not so smart.
Here is the recipe, which I am keeping in my "winner" file. However, remember that eating too much of it makes it high glycemic and high calorie. So don't do that!
Chocolate Mousse
Ingredients:
1 can coconut milk
1/4 cup plus 1 T cocoa powder
1/2 tsp vanilla extract
sweetener to taste
Put the coconut milk in a bowl and leave it uncovered in the refrigerator overnight. It should get very thick. You may have to drain off any watery liquid. Whip in cocoa, vanilla, and sweetener and divide into four serving dishes or use it to frost cupcakes.
Thank you to http://chocolatecoveredkatie.com for the recipe and the picture.
Eating to live and living for Christ,
Susan Jordan Brown