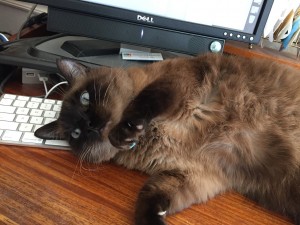 This is my cat Hector, trying to help me think. He's good at this — I don't actually think, but he does help. Which I suppose is something.
As even my flaky horoscope noted the other day, I've been needing to 'recharge.' Hector helps with that. Because even poets know that 'Excess is the common substitute for energy.' That's from my revered Marianne Moore, who knew a LOT about darn near everything, but especially poets & poetry.
So Hector is my 'excess' these days (I'm NOT going to count the blackberry pie!). He insists I pet him, even when I need to be working. He crawls into my lap, or onto the chair behind me as I sit, or sprawls on my desk. And insists I dissolve into mush, cooing and petting. Which I obligingly do.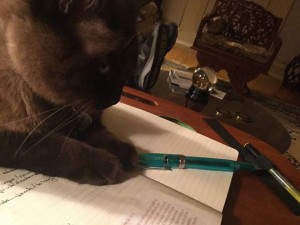 What is it about small animals — and some babies, but not all — that offers so many of us escape from a world that's not always what we signed up for? When the script is peopled by brusque strangers, or stage left is full of dirty laundry needing washing, sorting, & folding, or the desk I'd like to work at is covered in junk….I can rely on Hector. He even writes! (well, sort of…)
Sophie, my other cat, is less amenable to my moods. She's not funny, for one thing. Hector, on the other hand, is a total clown. He will pounce on a rollerball as readily as a laser pointer. Which works great when I'm trying to crank out a list of grants, or whatever.
Here is to the small ones dependent on us (Hector isn't all that small, actually — 17+ pounds!), who offer love, amusement, entertainment, and their own furry bodies to us when we need them. And, often, when we don't. See above.