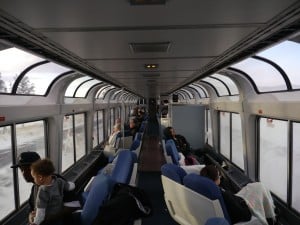 Everyone who knows me even slightly knows I adore trains. They're my favourite way to travel. Because a) you don't get airsick (or carsick). And b) you can just sit…and write. It's this tiny world where all that exists are you, the window on America (or France, or Holland, or Belgium, or Thailand, or wherever…), a dining car, a comfy seat, and writing time.
The older I get, the more time I have. Ostensibly. But it doesn't really work that way. I seem no less occupied than I was when I retired almost three years ago. Given, I now have far more control over what I spend that time on, but it still seems in too-short supply. It seems I have to fight to make time to write — a blog post, a letter, much less a longer piece.
So a train, where I can't run errands, or clean, or weed, or do laundry? It's like a magic threshold between behind-me and before-me. I can just be in the 'now,' as Buddhists say. And that now, for me, is usually a place to write.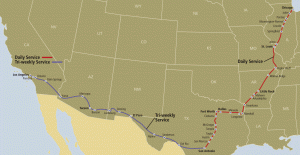 Saturday my elder son is coming to visit, and to pick up his car. When he leaves Thursday for home in Virginia, I'll go with him. To reconnoiter possible houses, to look at real estate. And when it's time to return to Oklahoma? Here's the excitement: I'm taking a train! My beloved's suggestion — that I take a TRAIN halfway across American east-to-west, and then halfway north-to-south! WHOOHOO! Two full days on trains! From Virginia to DC to Chicago to Texas to Oklahoma. How cool is that??
Love is a funny thing. I don't love my beloved because he buys me writing retreats on trains. I love him because he's imaginative — because he knows me well enough to imagine an adventure for me. One he knows I'll adore. One where I can write! How well he knows me.
So in a week I'll be readying to have a road trip (18 hours) with my elder son. That alone is a gift: time to talk, to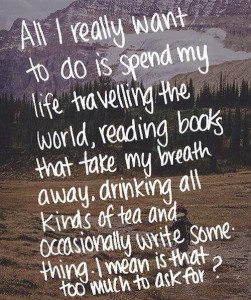 visit, share meals and the journey. As our 'kids' become parents themselves, this kind of time together is as rare as natural alexandrites. And as subject to the vagaries of light. For both of us to have free time, and to have reason to spend it together? It's been four years, at least — and that time too was a rarity.
Later this month, after a road trip and a grandson's 2nd birthday, and a sojourn with son & DIL & grandson, I'll be sitting in a comfy seat in the lounge car, writing as I look for America. Talk about the perfect exercise in beginner's heart: what's more contemplative than 2 1/2 days of quiet writing? The last time I took a train was a trip from Portland to LA with my younger son. We sat in the observation car: he reading, I writing. It was heaven.
I suspect this will be, as well. And I can hardly wait!