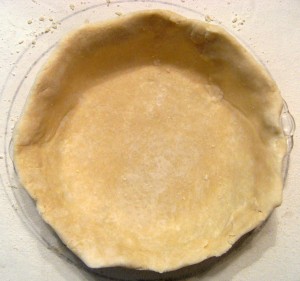 I'm not at the 'in the pie pan' stage yet, but I did make the dough today. My family is BIG on pie, and especially at Thanksgiving. (Countdown: 3-2-1…) I think my beloved could eat an entire pie by himself, and my nephews would fight over the other one. In other words, it's a two-pie day. And that doesn't include all the other amazing desserts.
But of course, there's that turkey too. This year, I surveyed my family, asking how many want turkey and how many would prefer spiral-cut ham. As I suspected, ham won. (Note: we had a LOT of left-over turkey last year!) So the turkey was down-sized, and the ham (which I don't eat — remember the whole 'no dead piggies' thing?) up-sized.
And there is a loooong list in my journal of who's making what else: mashed potatoes, gravy, sweet potato biscuits, sweet potatoes in general, broccoli casserole, cranberry sauce, deviled eggs, green beans… There is a LOT more!
There are 15 of us coming together, to remember all the many things we have to be thankful for. And today's everyday gratitude for me is that somehow, my beloved & I have become the place where we all gather. Yes, there's a lot of getting ready. But I have time, these days. Time to remember that all the preparation, if done mindfully, is a kind of love.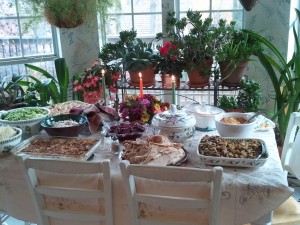 Sometimes I sound terribly hokey, I know! But it's true: today as I cut the butter into pieces to whir w/ the flour & salt, I thought — how lucky we are to be able to do this. How cool is it that we have the resources, the time, the ability…to make a Thanksgiving for 15 people!!
And how very lucky is it that we all want to do this?
Just yesterday there was a new piece on the arrests of homeless men & women, and the good people who try to feed them. I don't understand how feeding the homeless (especially in an ostensibly Christian nation) became a crime. As I read through my list of what we're supposed to do — brine the turkey before roasting it, make sure I have enough whipping cream, should I do hummus for while we warm up everything? — I also thought of the more than 610,000 homeless people bedding down in the cold each night. And as a child, wife, sister, and aunt of veterans, I remember that 9% of these homeless men & women are veterans. I remember the man who froze to death in the bank parking lot only a few blocks from house, one cold Oklahoma night. And I'm deeply saddened that instead of working as the great people we are, to end homelessness, we have chosen to criminalize it, and the people who would feed the hungry.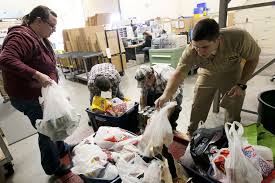 Feeding the hungry is a universal tenet of all religions. Muslims, Christians, Jews. Hindus, Buddhists, Jains. Atheists too feed the hungry. There are somewhere between 1.2 and 2.5 million homeless CHILDREN annually in the US. Again, I don't understand this. As I wonder which of my dishes are acceptable for the several gluten-free family coming Thursday, I realize how fortunate I am to have such first-world problems. But these children.. They're first-world children. American children. Homeless. And, probably, hungry.
These next few days, as you ready yourself for the holiday, remember to be grateful for your everyday life: warm, fed, even if you're in a pre-holiday whirl. As I am. Because I feel VERY lucky. That's my everyday gratitude today. Getting ready for a Thanksgiving blowout, & understanding how many Americans will do without. Our, complete w/ two pies, turkey, ham, the fixings, and whatever desserts my niece Anne is bringing. So many others, empty-handed…