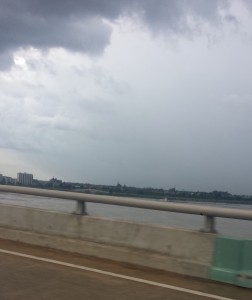 We're on a three-day road trip to Virginia, from Oklahoma (burglars beware: my sister and her two attack hounds are house-sitting!). Which means crossing both Arkansas, and Tennessee. Which means…crossing the Mississippi River!
I adore the Mississippi River — the folk lore, the history, the stories. Mark Twain. Some day, when I grow up ( 🙂 ), I'll be rich enough to go on a riverboat ride, from the New Orleans delta north as far as I can ride.
In the meantime, I'm settling for quick snapshots from a car window, as we drive over the bridge that's the boundary between Arkansas and Tennessee.
Road trips are wonderful — even when it pours (it has, for hours, in vertical BUCKETS). Even when much of yesterday's trip was spent at a standstill, in single lane traffic on a four-lane highway. Even when you're tired, and you miss the exit for the bathroom…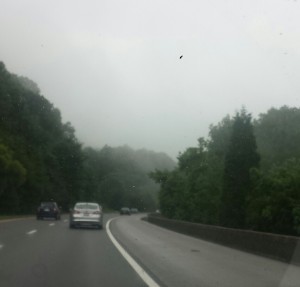 They're still magic. Because there's this huge green wilderness that's America, and you're travelling in this tiny motorised vehicle (compared to the trucks on I40, even a Prius wagon is tiny!). No, it's not my grandmother's covered wagon from Kentucky. But it's all part of that vast American myth, sometimes dark and horrible (slave ships), sometimes adventure on steroids (families in covered wagons, in the 19th century).
Not to mention that there's that all too rare treasure: time. Time to talk, time to relax, time to figure out the precise image that should live in a tanka you add to a growing collection of road trip poetry.
Yes, this is a trip to see family over the 4th of July, as families all over America are gathering to celebrate. And I love that we're doing it via a piece of American mythology: the road trip.