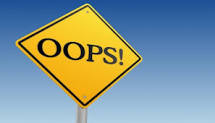 Making reservations for hotels while we're on vacation, I couldn't get the online form to 'submit.' Literally. Try after try, it said I wasn't finished. Yes I am! I thought. Dumb computer
But you know what? I'd messed up, and the form was right. I did NOT want to send it in w/ 2 rooms for 1 adult, instead of 1 room for the two of us.
Whether it was dumb luck or divine providence, it made me stop and wonder: how often have what seemed to be mistakes — even minor catastrophes — turned out to be that old blessing in disguise? And how often do I wail for no reason — even refusing to see the good that can come from a 'mistake.'
It's like the story Nobel laureate Isaac Bashevis Singer told, of a man whose only cow is taken. When an onlooker complains to an angel he's accompanying (you need to find the story!), the angel replies: We were scheduled to take the wife, but he's such a good man, we took the cow instead.

That's not really a mistake, I know. But it's the same point, at least to me. 'Bad' things may actually have good consequences.
All day today, when I stubbed my toe, or had a headache from my eye exam (I sooo hate having my eyes dilated!), or found the shirt I wanted clean for the trip in a messy heap, I thought about this. And you know what?
My day seemed measurably more pleasant. There may well have been angels watching.