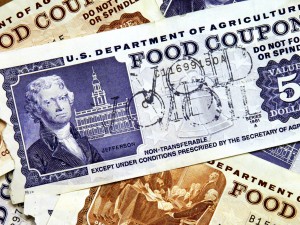 Would someone explain to me what is wrong with feeding the hungry? I can't think of ANY faith or wisdom tradition that doesn't ask its adherents to feed the hungry. And to take care of (not libel and humiliate) those of us who are less fortunate.
And yet people who are, ostensibly, America's leaders, continue to liken those who need help to wild animals. Witness the most recent name-calling and superior attitudes. I'm not giving the name of the US Senate candidate, as she deserves no free publicity. If you'd like to do as I did, and go to her FB page to acquaint her with a few of the facts of food stamps, here they are (courtesy of Feeding America and others, as noted):

What happened to feed the hungry? Doing good? Why is it only the hellish Old Testament that today's politicans and ostensible Christians follow? I grew up in a Sunday-school-attending, vacation-Bible-school-summers, Okie family. I've actually read the entire Bible more than once — all of it. I took religion classes in college, and have made it a practice to study as many wisdom traditions as I can. And Jesus NEVER said The poor are wild animals. Do not feed. He DID say Blessed are the poor. And he DID say it's hard for the rich to go to heaven — as hard as a camel going through the eye of a needle. And he said this more than once: Matthew 19, Mark 10, Luke 18. In other words? He felt pretty strongly about this.

I have family on food stamps. I've been on food stamps myself, for a whole month (used when I lost my job due to an injury, and — at the ripe age of 20 — had no resources; I was so very grateful). My sister could have used food stamps when she was in the military; a single parent's salary w/ two kids is pretty minimal. Shouldn't we be GRATEFUL that we're a nation of such resources that we CAN feed the hungry? Isn't that a GOOD thing?
So: don't tell me you're pro-family if you think kids can go hungry. Don't pretend to support veterans if you don't understand how hungry they are. Please don't tell me about your faith when you don't listen to your own teachers. And don't even SPEAK to me if you honestly believe the unfortunate are no better than wild animals. Because you know what? You obviously don't get it.