My cousin Sally is white. Her grandsons are mixed race — their father is black, Sally's daughter is also white. Each of the culturally sanctioned murders of black men lately is a bludgeon to Sally's heart. As it should be for all of us.
When George Zimmerman went free of murdering Trayvon Martin, and Michael Dunn's jury hung over his killing of Jordan Davis, every family member of a young black men shuddered. In America, as Bruce Springsteen sang, you can get killed just for living in your American skin. And if you don't believe that, you aren't paying attention.
Recently a 15-year-old girl — Adrian Broadway — shot by Willie Noble for egging his car. Willie Noble will probably get the book — he's black. But white Michael Dunn, who pulled in next to a group of black youths listening to loud music? And then shot Jordan Davis for refusing to turn his music down? He's free on that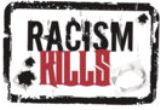 charge — hung jury. Dunn will serve time — a minimum 20-year sentence for shooting at each of the other three youths. But those sentences may be served concurrently, if the judge so decides. Technically? With 'good behaviour,' Dunn may only serve 10 years for murdering a 17-year-old kid who basically angered Dunn. Wow. In Oklahoma, a woman got 12 years just for marijuana possession, and so far no 'good behaviour' clause.
You can look all of this up. I'm sick at heart re-reading these cases. While I realise that living on the inside of a racist heart must be terrible, it doesn't (usually) kill you. And it DOES kill others. The bottom line doesn't change: in America, there's an open season on my cousin Sally's grandsons. Which is beyond wrong. And I don't know what to do about it…