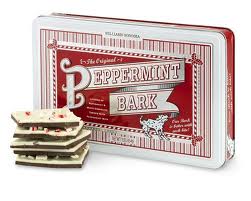 Hi, my  name is Britton, and I L♥VE food. Well, I love good food. I'm not interested in crappy calories; only the best! And over the holidays? I'm in (as my Aunt Bonnie would say) hog heaven! Although they'd have to be VERRRY spoiled hogs…
Right now, it's peppermint bark time. I adore peppermint bark! I mean, chocolate & peppermint? Creamy & crunchy together? One bite & I'm 9 years old again, at Aunt Velma's, sneaking to the footed crystal candy dish…
And I love ham, although I don't eat it any more. No pigs, remember? But I still love the smell — that salty/sweet tang of good ham. And eggnog, and ambrosia, and pie, and roast and Yorkshire pudding and hot chocolate with marshmallows and all the treats we fête ourselves with. After all, if it's Chanukah or Kwanza/ Solstice, Harvest, or December 25th, it deserves our very best food, dress, conversation… And merriment.
Because whatever your reason for this season is, if it doesn't make you happy, it's not much of a celebration. Celebrate: from the  Latin celebrare, which one article says means 'to assemble to honour.' Another says it means 'to honour a day or occasion by festivities.' Either will do, and as the Christian Science Monitor points out, we do gather together (a much more informal word for 'assembling'!). And that gathering should be FESTIVE (read: fun), folks.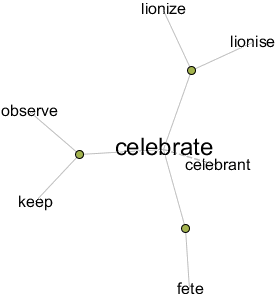 Instead, we worry about the presents. Fret over the food. Stress over the entire celebration. And miss whatever our point is: birth, rebirth, Solstice, culture, family… As the Dalai Lama says, faith should bring us happiness. As should its celebrations. Whether you are Christian, Buddhist, agnostic, or Muslim, Jew, atheist or something else, the gathering of friends & family to celebrate is beyond mere 'observance.' You can observe something from a distance. Celebration requires full-out engagement. (Which is NOT the same thing as worry!).
So as you ready for the year's end, grab some peppermint bark. It's vegan! Well, at least the kind I buy is: dark chocolate doesn't have any milk in it :). Make some hot tea, a cappuccino, or grab a glass of wine…whatever. Just take time to sit down, relax, and treat yourself with loving kindness. Breathe. And let your faith bring you joy in our upcoming celebrations.