During November — which I think of as the month of Thanksgiving — I give thanks each day for one of my many blessings. Today it's my grandson, with whom I am (of course!) besotted.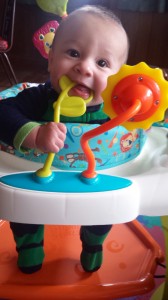 I'm sure this is true of most (if not all) grandmothers. This makes my grandson no less miraculous to me. 🙂
Trinidad is a BIG blessing. But over the past several days I've also been grateful for other, more mundane things: the golden autumn light, the perfect fall weather Tulsa enjoyed for several unbroken days, my husband's support for a month where I'm gone more than at home… And yet not one of these is really 'ordinary.' Or mundane. And each happens daily. Kind of like winter snowflakes — no two blessings alike.
People expect me to be grateful for such a healthy, happy baby. But the happiness I feel for Trin is only the tip of iceberg. It was hard for me to become pregnant w/ his father — it took 3 years, including an operation. So I never take either of my sons — not Trin's father nor his uncle — for granted.
And every mother of sons knows how lucky you feel just to graduate them — intact! — from high school Add a job with benefits to that? Whew!
And then combine that with an amazing daughter-in-law, and then a brilliantly beautiful baby boy? All healthy? That's the iceberg, isn't it? That still leaves plenty of gratitude for the snowflakes, if that makes sense.
So this month, as you count your many blessings — hopefully one each day — remember how they came to you. And be grateful for your snowflakes as well as your icebergs.