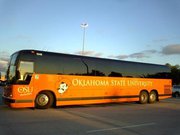 I'm still learning this whole 'retirement' thing. Don't get me wrong — it's GREAT! But when September rolls around, I feel like I should be going back to teaching. But at 9:00 a.m. today — and every weekday — 'my' bus leaves w/out me. When I think about that, I feel… well, not exactly abandoned, but certainly out of the loop.
For the past several years, I rode to work almost every day on BOB, the Big Orange Bus. I learned to know the regulars, made friends w/ many of them, became close to various drivers. Watched students start school and finish, even entering graduate classes. It's a family unlike any other, the bus family, and the people on the bus are what make it that way.
I've often thought of the bus as the ultimate metaphor: you don't choose the other passengers; you only choose how you meet them. Some become inexpressibly dear — Bus Carol, about whom I've written, comes immediately to mind. Others deepen your life ~ Jerry the driver, who greets each of us a long-lost friend. The beekeeper principal who's now faculty. The almost-minister who decided on research, instead. Others test your patience: the guy who snored so loudly we worried he was going to keel over. The homeless guy who turned out not to be homeless, only very dirty and very drunk and very clueless. The three girls in the front who talked SO LOUDLY.
I miss the bus people. Even the loud girls in front. It's the way with things we take for granted, our every day lives. Buddhists know: nothing lasts. Only change is always just around the corner. So pay attention. Even the everyday is fleeting ~