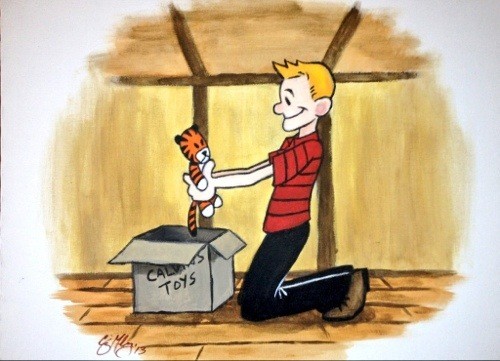 This picture, by Craig Mahoney, reminds me that children don't need to learn beginner's heart. (Not to mention that Bill Watterson is a genius. 🙂 )
Beginner's heart is a large part imagination — the ability to think that a tiger can talk, can feel, can play a prank with you. The ability to envision killer snowmen, alternate dimensions. Space travel from a box. Children have imagination in spades.
Beginner's heart grows from (and into) love. Think of the love this cartoon triggers. How many of us don't LOVE Calvin & Hobbes?? And how can you not feel the love in this picture? Mahoney does a bang-up job of bringing Calvin & Hobbes into the present, complete w/ their deep (and believable) friendship.
Beginner's heart also requires a strong sense of humour. I can't think of a cartoon strip I still re-read. My family is into its third set of C&H books — the others (literally) read to tatters. Because every single page is funny. Full of wit, sometimes even poignancy. But always w/ a gentle hand, and strong sense of the absurd. Totally necessary as we walk the beginner's path…
Children are gurus of humour — what's funnier than two boys doing dead squirrel imitations? Complete w/ roadkill rigour mortis??
I rest my case. Children, beginner's heart, Calvin & Hobbes. At any age.