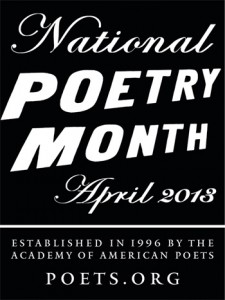 On my Facebook page, I'm publishing my own poems daily — one by one, each written or revised or at least revisited for this month I love.
But here, I'm going to link daily to a poem important to me. Or maybe just one of the many I adore. Each day I'll give you a poem to think about. I may post something with it, but mostly I want you to have poetry. Because every beginner's heart needs it. Like water. Like air. Like love.
Here's Billy Collins, former US Poet Laureate, to kick us off:
Introduction to Poetry
I ask them to take a poem
and hold it up to the light
like a color slide
or press an ear against its hive.
I say drop a mouse into a poem
and watch him probe his way out,
or walk inside the poem's room
and feel the walls for a light switch.
I want them to waterski
across the surface of a poem
waving at the author's name on the shore.
But all they want to do
is tie the poem to a chair with rope
and torture a confession out of it.
They begin beating it with a hose
to find out what it really means.