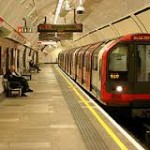 Today's poem is one of my favourites. It also changes American poetry (arguably). It's Ezra Pound, of course — that contentious, controversial poet who went loudly nuts during WWII.
But this is the quieter, Asian art-influenced Pound. The poet who read haiku in Japan, all of Ernest Fenollosa's work on the Chinese ideogram, and eventually translated Chinese. Although he spoke none…
No where but in the arts can I imagine that story being real: a young American meets an artist, read his work, uses it to change the course of his own work, and ultimately brings an entire body of work into his own culture… Wow.
Here it is, balm for subway riders:
The apparition of these faces in the crowd;
Petals on a wet, black bough.