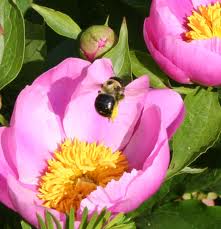 Even though it's a bit briskish today (as my Aunt Bonnie would say…), you can tell it's spring. The bees are working their fuzzy striped butts off. And there are fat peony buds in the walled garden, ready to burst open (probably while I'm gone next week).
Because I'm going to.. .Maui! Which is, of course, a kind of Eden. Not only that? I'm going to meet an old girlfriend! And stay with her at her mother's place. How cool is that? Girls in the tropical 'hood…
So watching bees is very much not something I can do today, as I'm madly packing, checking my lists (I'm suuuuch a list maker!), trying to anticipate weather, volume of pink suitcase, etc.
But there are sure to be bees — if not peonies — in Maui. And I fully intend to watch them stagger out of exotic flowers, laden w/ pollen & nectar. Wherever you are, you should make time to do the same. It's a perfect exercise in the now of things. 🙂
Here's the amazing Matsuo Bashō, translated by Robert Hass:
A bee
A bee
staggers out
of the peony.