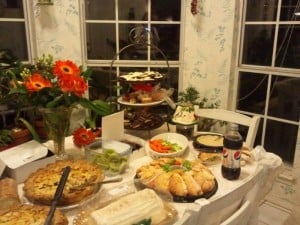 In the kitchen, ginger scones remain on tray. A triple layered server still holds peppermint bark and chocolate biscuits. Various leftovers decorate the dining table. It's the night after the annual Girlfriends Holiday Tea.
I started this years ago — I don't even remember how many. It's what I do instead of presents: make three big pots of tea (China black, a second — tonight we had both Lapsang Souchong & a Temi Sikkim — and a decaf English breakfast blend) in the family silver and good china. Set the table w/ tiered servers & silver flatware and holiday linens, load it w/ homemade scones & quiche & chocolate biscuits (English — NOT homemade!), and kick back w/ my girlfriends.
Most of my friends are teachers. Over the years, we've become as close as extended family. Shanedra & Sherry have gone through their doctorates. Stephanie was a brand-new teacher when we first met; now she's a district teacher leader. My best friend Pat has moved 1/2 way across the country, but we were lucky enough to have her last night. We've seen Jo through her divorce (and now 2nd time around dating); Robin is pregnant with her 2nd child (a boy this time!) & Donna has retired. We have history!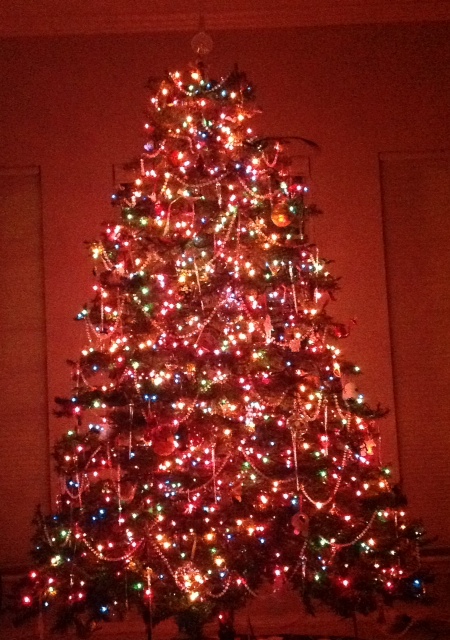 It's late. The house is quiet — dogs snuffling softly, one on the sofa beside his master, the other curled by the heating vent. On the Christmas tree, the lights glitter as if they have tiny wings — iridescent, brilliant.
And there's family, of course — my sisters come. One of my nieces comes, and brings her BFF (who is a bit like another niece by now). My sister bringsher bff. We drink waaay too much caffeine, talk fast & furious and in multiple layers, like a complex sound track. It's heaven.
I can't imagine how the few women I know who lack female friends & family manage. So many times my girlfriends and/or my sisters (and in my case, they're often the same) have saved me ~ given me a shoulder to cry on, told me stupid jokes when I needed a laugh, been resource and conscience and compassionate ears. Not to mention that we have enormous fun, of course!
What do women w/out girlfriends do? This time of year, when I count my many blessings, the many wonderful women in my life — from my young nieces to my older mentors — are some of the most important. As the poet Gina Meyers writes, "the way/ my heart shatters/ a little each time/ I think of my friends/ & how lucky in life/ I've been to get/ to know them,/ to have/ had the time to laugh &/ drink & dance & to argue..."