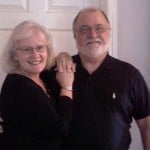 This isn't the newest picture of my wonderful husband, nor is it my earliest. But it's one I like, as it reminds me how much we have in common. When we metmany years ago, on a blind date, that wasn't as obvious. On our wedding day, in fact, a friend volunteered to tell the folks if I wanted to back out…!
I would have missed so much: travel to exotic places, two amazing sons, the best in-laws possible, laughter & loss & movies & books & eating out & all that goes into years of a lively, happy marriage.
I never wanted to get married, but I'm so very glad I am. Happily. Besottedly. For DECADES. And it's the biggest, most daily thing filling my gratitude journal: thanks for Husband, thanks for 1,2,3,+ thoughtful things he does, thanks for funny things he tells me. Thanks for the times he MAKES me get out of my comfy chair to come look at a) a really beautiful sunset; b) an amazing moonrise; c) a bird on the feeder… You get the picture.
My mother told me ~ many years ago ~ that all you need is love. That love really is enough. And you know what? She was right. Love is the answer. So today I'm thankful for a major source of my life's supply of that irreplaceable element. My wonderful, brilliant, handsome, witty, kind & thoughtful husband. Happy Month of Thanksgiving!