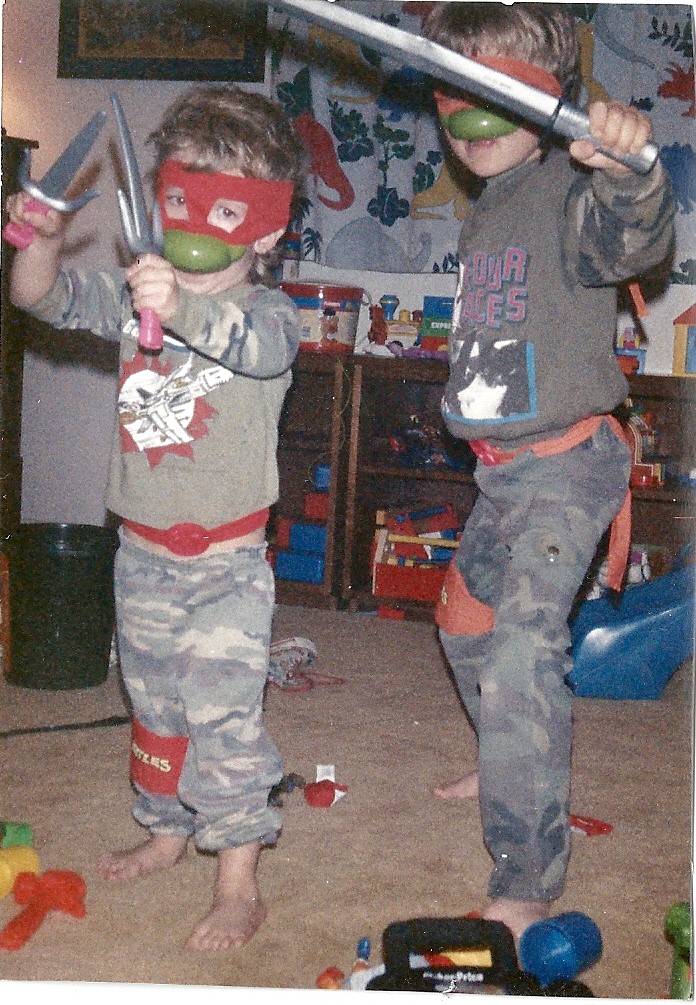 This is my favourite picture of my two sons, whom I adore. And for whom I give thanks daily.
They are grown men now, my two blond children, and will shake their heads at their mother posting a picture of them dressed up as ninja turtles. But in this picture is the essence of these two now-men, and they boys from whom they grew.
First? It's creative. And I am grateful for the very different kinds of creativity that animate their lives. The elder is a teacher, and has taught me more about math than he knows. Because he does so with animation and creativity (witness the karate stance!), this poet can grasp his analogies. And because he cares, I continue to try (witness how he play w/ his younger brother!). He's also turned me on to so many important books, from his early Christmas present (a beloved text-less picture book) to today's fiction & literature. First son also writes beautifully — strong on dialogue and action.
The younger has taught me more about computers and the culture of technology (not to mention the music he pursued for years) than he knows. And because he also does it with creative insight into how these will be useful in my world (witness how well he enters into his brother's play!), I can learn. While his acute knowledge of the tools necessary (do you see all those toy tools in the floor?) enables me to find exactly those things most helpful. Not to mention he, too, writes.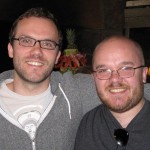 The dinosaur curtains are their love of tradition, family, and history. Both are great family men, there when cousins propose adventures, there when aunts need help moving. And there to organise a cousins' gift exchange at the holiday, or spend time with a mother who is in town for a few days.
The colourful chaos has been the air they breathe since childhood — third culture kids, one raised to early childhood abroad, the other born and raised to pre-school there, a few years later. I still remember the two boys whose father was overseas for months on end, reading faxes of bedtime stories. The boys who slept in the floor by my bed during the first Gulf War…
I always wanted children. Even as a child, when I refused to even contemplate marrying a BOY (yuk!), I told my mother I would have children. She explained to me that I had to be married.
Unh uh, I replied, shaking my blonde ponytail. Dogs aren't married. She pointed out that dogs were NOT people, despite my feelings on that issue. And while that may be true (I'll still debate it!), what she might have told me is that sons are even more fun than puppies. Honest.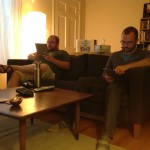 Years later, I am happily married to the father of these two adult miracles. Who have taught me far more than music, math, technology, writing, books, beer culture, movies, or patience. Who each day creep into my thoughts: what would Elder Son like? What is Younger Son doing? So today, I am (as always) profoundly grateful for my two practically perfect sons. I am grateful for the long nights, the late phone calls, the empty milk cartons, the CDs (mine!) that kept being stolen from cars left unlocked, the cats rescued and left with us, the aging dogs that became ours… All of it. I'm grateful for every single minute. It's a gratitude that keeps on giving ~