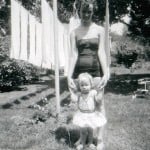 More years after the taking of this picture than I'd like to admit, my aunt Carol is still teaching me things. As is her husband — my uncle Jim — and their three daughters. Today, for instance? They reminded me how lucky I am to have such a great extended family.
Even though I grew up as a third culture kid — first an Army brat, then an expat brat, then an expat adult — I've always been close to my extended family. Perhaps because my mother & I spent my first year-plus living w/ my grandmother and my youngest aunt — Carol of the picture — and perhaps because I stayed with aunts & uncles throughout my childhood, they're each very dear to me.
So today, celebrating a BIG birthday for my uncle Jim, it was hard not to find myself remembering this picture of Carol with me as an infant, and many others, some existing only in memory: Carol & Jim taking me for a long weekend to their home outside of Tulsa; Carol, Mother, & me going Christmas shopping; my aunt Joyce making my 6-year-old birthday cake; my aunt Lettie hosting family Christmas at her elegant home.
Today I'm thankful for the many memories I have of my cousins, my aunts, my uncles. I'm grateful for the opportunity I had today — far too rare! — to hug one of my aunts, and to have, just for a moment, a vivid window into my own childhood. And to be given, too, a look at the young children of my three cousins. How very short the years have been… hours instead of months.
It's a good month for family. And to give thanks we have them ~