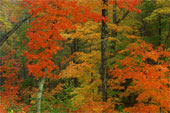 "…in Micmac … some trees 'are named for the sound the wind makes when it blows through them during the autumn, about an hour after sunset when the wind always comes from a certain direction. Moreover, these names are not fixed but change as the sound changes." ~ as qtd. in Elizabeth Seay, Searching for Lost City, xii.
An exercise I do frequently in writing classes — poetry & othewise — is to ask students to make a list of names: of tools (dibble, trowel, router, awl), of moths (hawk moth, luna moth, emperor gum moth), of twilight (civil, nautical, astronomical). Because names often hold within them poetry. More than a mere seed, the name itself becomes an image: civil twilight holds an entire world within its 13 letters…
I once heard Poet Laureate Robert Pinsky tell of researching the names for the various parts of a man's shirt, spending hours — if not days — on the task. So charmed was he with the precision, the world of tailoring and new knowledge, the words invoked.
Today? I'm looking for names w/ power. Names that hold poetry within the cool confines of another discipline. Another world…