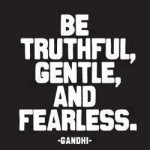 I'm pretty good at truthful, all humility aside :). In fact, sometimes I have to remember to temper it w/ the Buddha's whole 'is it appropriate? is it necessary? is it timely?' context. I've learned how to say 'No, those jeans are NOT flattering' very carefully. The only times I flail are (of course!) when I'm trying to be truthful w/ myself — that's far harder. And not so much because of the 'hard' things we need to learn, but often I forget to temper my own self critique w/ the mercy I would extend others.
I'm sure you don't do that…
I'm also pretty fearless. Unless it's a high place, or painful. And even the pain isn't so much fear as avoidance. High places, though? They leave me quivering jelly. I always feel like I might just jump to see if I can fly…
But the gentle thing? I'm not good at that. I remember apologising to my older son once, saying he deserved a more nurturing mother. He reassured me that having a mother who would fight for him w/ the principal was also good. Thank heavens! Because that's the mom the boys had. And still have.
I'm okay if you're a bee, or a bird inside the house, or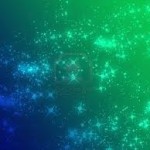 even a bat circling the fan in the upstairs bedroom. I can coo to you and work patiently to free you. But if you're a student w/ a catastrophe? My MO is usually laughter — try to get you to laugh, even as I hug you. For some reason, I don't speak fluent human gentle… only bug, bat, & animal gentle.
So this FB meme felt targeted when I saw it today. Reading it, I'm reminded: I need to be more gentle. Even if it's difficult. Because gentleness is, like mercy, what leavens fearlessness and truth. And don't we all need that? A little lightness of being…? It might even help with the self-truthfulness…