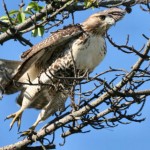 The other day, sitting in the breakfast room & looking out the window to the small-seed bird feeder, I watched as a cloud of birds lifted into the air. Spiraling to a seat on the pecan tree just off the deck, an immature red-tailed hawk settled not 4 feet from the feeder.
The hawk hung to the branch for a wonderful 10 minutes or so, preening, fluffing feathers. I watched from inside, transfixed.
If wrens & sparrows & titmice & chickadees could talk, I'm fairly certain they would have little good to say about the recent arrival of a hawk. It's not the hawk's first appearance — for about 3-4 months now I've seen it swoop through the yard, perch on a tree at the fence line, even eye the menu from a nearby limb. And each time the smaller birds scatter, terrified (and cautious!).
There are crows, now, as well. Four or five, who sometimes sit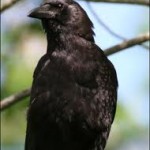 just across from one of the suet feeders, and who often crack the quiet flutter of wings and birdchatter with their guttural caww caww. They too are not well-loved by the songbirds frequenting the deck smorgasbőrd, since crows will eat eggs and nestlings.
Lately, everything I observe seems to come back to learning. To beginner's heart. These beautiful predators are no exception. I find  myself thinking, as I watch the hawk, as I listened later to the crows calling back & forth, that the smaller birds would have only bad things to say about the newcomers. But in fact, the presence of the hawk and the crows indicates just how healthy our backyard ecosystem is — that we can support the ongoing presence of predators, and one an apex predator, at that. 🙂
I wonder how many times my apparent 'bad luck' or 'misfortune' is, in fact, an indicator of my amazing good fortune. My life is so rich. So if my heater upstairs breaks down, shouldn't I focus on the fact I have a) a two-story house! And b) zoned heating!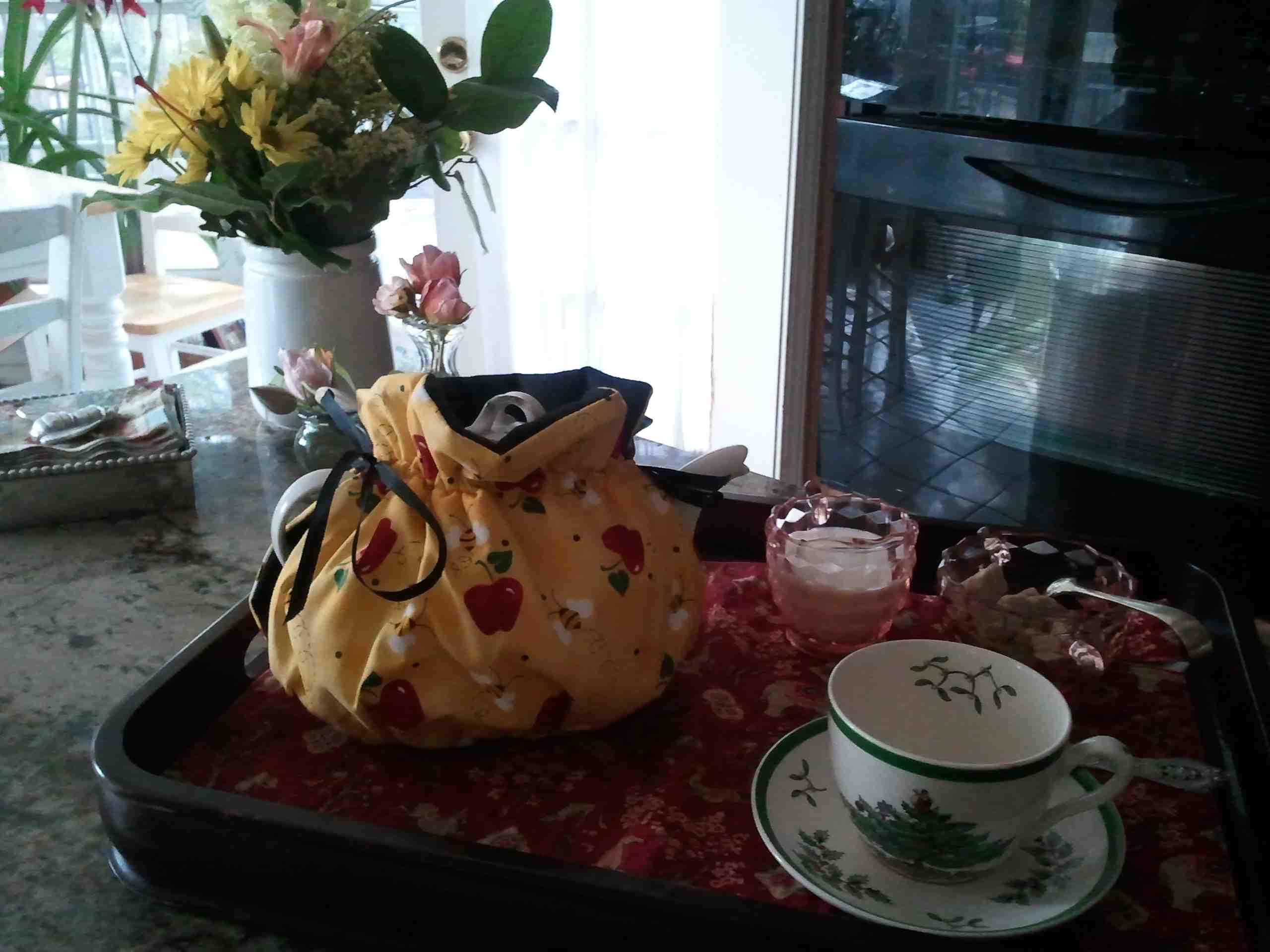 And when I don't lose weight as I think I should, because I had a lovely tea w/ my niece and three sisters, shouldn't I be grateful for a) my family? And b) a comfortable enough financial situation to go out to eat? And c) a wonderful local tea room? And d) the enjoyment of them all??
It's not as simple as looking for silver linings. Rather, I'm trying to see that what looks 'bad' may, in fact, be the result of something good. That the weight I didn't lose is the result of the tea. That the hawk is drawn by the bright palette of birds colouring the deck. I'm trying to look at my life as a kind of spiritual ecosystem :).
So I'm reframing the crows and hawks in my life. It's not a bad way to re-think things. And it makes me feel much more connected to the natural world around me. All in all? A pretty good deal ~