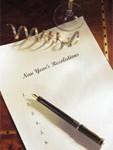 So you may be thinking: New Year's resolutions? It's the middle of January! But it's also (almost) Chinese New Year (January 23rd, just FYI). And this is a big one for me — my birth cycle returns. Born in the Year of the Dragon, the Dragon is once again at the helm of the year. Which bodes well for dragon people. 🙂
I love fresh starts, as I've written elsewhere. Like a new journal — a blank book, an empty screen, a richly creamy piece of paper — possibilities unfurl before you like a road trip. It's sooo inviting.
But no pressure…:) Just because you can do almost anything. Resolve to be someone completely new! Someone…kinder. Gentler. More patient. Just better all 'round. And again ~ no pressure.
Of course there's pressure. The accumulated push — almost tidal — of all the times I've made resolutions before. The gravitas of high intention. All the weight of wisdom hard-won… I probably should resolve not to resolve!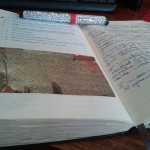 Instead, I'm filling the new Moleskine I began the first of the American New Year with plans and intentions and yes, resolutions. Some I've noted here. But what I want us each to consider is this:
Imagine you have this year only. Twelve single months. What will you fill them with? What will you want to look back at, the last day of December, 2012? Or when the Year of the Snake rolls around in 2013?
When your birth cycle comes again, there are great changes in store for you. And certainly I already know of some coming this year. Our writing project site is hosting a national conference, it's also our 20th site anniversary. And there are personal changes coming, as well.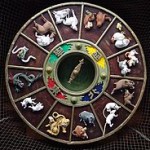 Yesterday at a meeting, someone asked me to consider my challenges and achievements for 2012. It's early yet, but I already know that my challenges will become, if met with grace, my achievements. I don't know I've ever framed the things I find difficult in that way. But it's good practice, good beginner's heart.
So here's my thought today: what challenges do you face this year? And what would you like to place in the 'achievements' column of your personal year's journal? What are the 'resolutions' you can make to help you make those moves? Me? I'll be working on the hardest, for me: kindness. Compassion. Patience. I'll let you know, come Year of the Snake, how this Dragon does ~