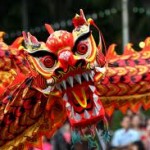 When I was a child, living in Việt Nam, Tết (Việtnamese New Year) was celebrated with Chinese New Year. We (children were welcome — even American children!) burned clothing for the dead, brilliantly red dresses and robes and hats and even shoes, each the colour of luck, gilded w/ prosperous gold. We also burned paper money, so the dead would be able to continue in the afterlife in comfort. Those are all customs of Chinese New Year, or Tết, as it's known in many countries.
Chinese New Year has had a profound impact on many countries, not just China. It shapes the celebration of religious holidays, like Buddhist New Year, but also insinuates its colourful customs and traditions into countries with only small numbers of Chinese citizens.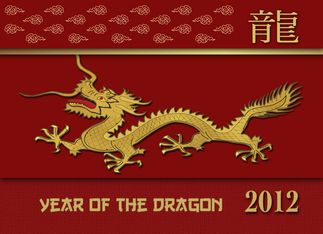 This year — like many — the US has even issued a stamp, honouring the Chinese astrological sign for the year: the Year of the Dragon.
It's a lovely holiday, spanning two weeks that this year begin on January 23rd. On New Year's Eve, families will feast — much like we do on January 1st. And they party, complete w/ firecrackers (after all, they're a Chinese invention dating back to the 7th century). All of this is a welcome break after days of cleaning house and sweeping away all the past year's accumulation of bad luck. New clothes are bought, haircuts are in order, and a liberal use of good-luck red is everywhere, including the red packets of money given as presents.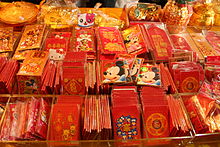 There is, in fact, a 'map' of what is done the 15 days of New Year's, complete w/ special foods, clothing, and places to visit. Red — the colour of luck, happiness, joy — is everywhere. Lucky plum blossoms and prosperity-bringing narcissus are the flowers of the moment. Many of these traditions are centuries old, and all are invoked with love and laughter. Rich with colour and ritual, it's a holiday that rings in the New Year for Chinese all over the world, Buddhist, Taoist, Confucian and agnostic :).
As with Mahayana and Theravadin Buddhist New Year celebrations, altars are refurbished, cleaned for the New Year. Buddhists often go meatless the first day of the New Year, hoping it will confer longevity. Certainly it doesn't hurt!
The lead-in to Tết can last weeks. Family altars are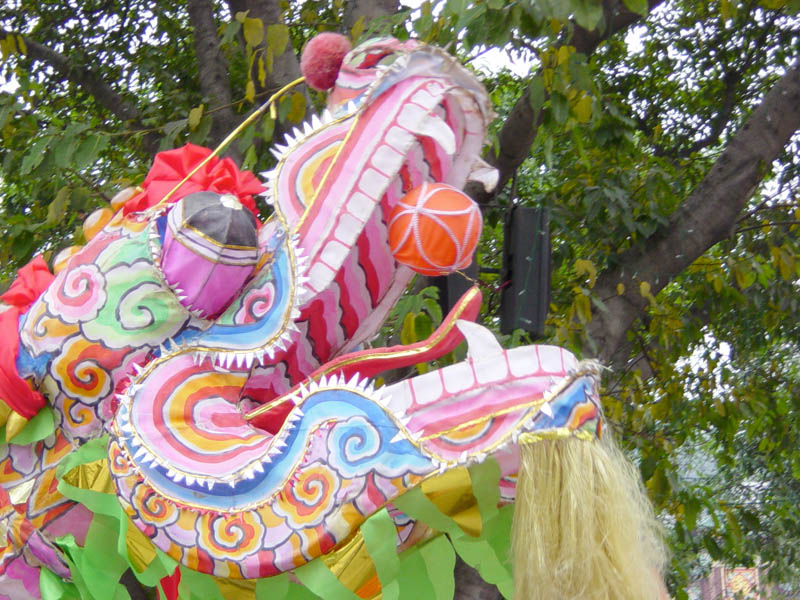 cleaned and new offerings placed upon them. Food is bought in huge quantities, since shops will be closed during the holidays. Much of the first day of Tết is spent in rituals: the first visitor, the New Year's feast, a conscious intention to start this new and unspoiled new year off well.
At the heart of Tết is preparing for a better new year: spiritually (through visits to temple), w/ the family (celebrating with reunions and family feasts), in learning (the third day of Tết honours teachers!)… Great attention is given to welcoming the New Year in as friendly and auspicious a fashion as possible.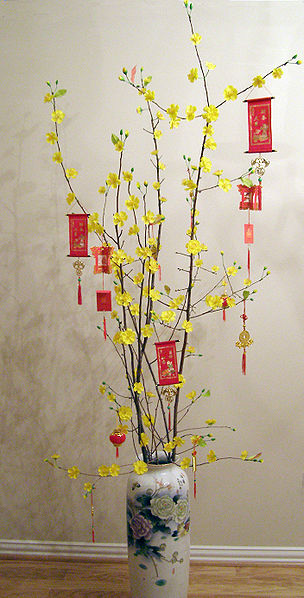 So clean the house in preparation. Cook a great meal. Set out flowers and use lucky scarlet-red liberally. Invite over your friends. Place red envelopes w/ a token at each plate. Make sure your spiritual house is in order — clean your house altar, if you have one, and make an offering to your church or temple.
Then see if you can locate a local dragon dance; they're surprisingly common in the U.S. Is it spiritually Buddhist? As much as my city's Festival of Lights is about the birth of Jesus and Christmas. 🙂 And it's certainly as much fun! 🙂