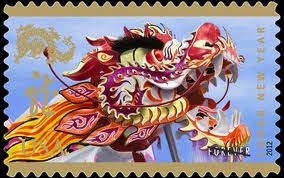 Few Americans are Buddhist — between 2.5 and 4 million, according to at least one source. A similar number are of Chinese ancestry — a scant 3 million. This makes the celebration of Buddhist New Year in the US a kind of moveable feast :).
So if you'd like to celebrate Buddhist New Year in the US, you have choices: some American Buddhists celebrate in January — upcoming Monday the 9th. Others fall in w/ Chinese New Year (this year January 23rd), including the wearing of lucky red and the eating of lucky foods. And still others celebrate New Year's as the rest of the country already has — on January 1st.
But because of the influence on American Buddhism of Theravadin countries like Việt Nam and Thailand, many Buddhists celebrate the religious new year in conjunction with Chinese New Year, in customs if not actual date.  Whichever date you choose, here are some things to do to get ready for the new year:
Clean your altar.Wipe down all the surfaces, empty your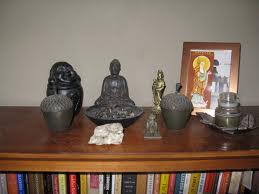 incense burner and put out fresh incense. Gently clean any statues. On my home altar, I have a gold Buddha medal my husband brought back from a temple in Japan. I take it out of its sleeve and wipe it gently. I wipe down my table. I carefully rinse my Kuanyin figure, and dust  the brightly coloured  green Tara meditation card I use for a focus. I empty my incense burner of ash and unburned incense, and then I put everything back in place.
If you don't have a home altar, this is a good year to set one up. It needn't cost much: a space on a kitchen shelf, as one of my friends has done, will suffice. And if you don't already have a Buddha statue, print out a nice one on your printer.  Or take a picture at a museum and use that. Fill a small bowl w/ sand and stick an incense stick in it. Add your mala and voilà! An altar :).
If you want to be a bit more elaborate, an altar cloth is nice, and protects the surface of your table or shelf from incense ash and the occasional spark (my table has a few burn marks, I confess).  And you may want to spring for a really lovely Buddha or Kuanyin — they can cost as much as you want to spend. 🙂
The point is to celebrate the New Year — whichever day you choose — by honouring your commitment to be more mindful, kinder and more compassionate. That's what is really important. Whatever helps you come to that mindset is the best of New Year preparations ~