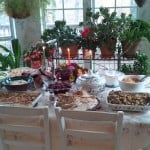 The movies featuring family holidays are all disturbing, even when comedy is the intention: Thanksgiving stress, Christmas dysfunction, loud drunks and childhood grievances. So that's all too often what we expect. And sometimes we don't even realise it until it's so obviously a perfect day that I wonder what I expected…
This has been three of the nicest high-energy days I can remember. Family and food and more family and more food and … and… and. 🙂 Until you would think you'd be full. And, as a friend punned on her FB, I am. ThankFULL. Bear with me as I tie this back to beginner's heart…
Sometimes people have the bad luck of feeling sorry for me, as I 'only' have sons. Are you kidding? I have two of the nicest sons possible: funny, smart, thoughtful, and nicer than you can imagine. They phone regularly, tell great jokes, buy the BEST presents (you should see my bee pins!) and generally are perfect. Really.
'But you don't have daughters,' they say with pity. No, I have (wait for it) nieces!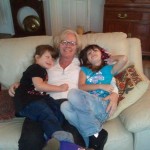 (And two GREAT nephews, I might add, so they know I never take them for granted :)) I have these amazing young women — several! — whose mothers and fathers raised them to be the incredibly smart, funny, thoughtful and nuanced people they are today. They drive long distances to see me. They have lunch with me in town. They give me hugs that speak louder than their deeply private selves are able to. They Facebook me and send me their writing and generally are the best gift you can imagine. And I had nothing to do with this.
Sometimes, in the hectic patter of our everyday lives, we forget that wonder and grace surround us. In our frantic pursuit of life, liberty and the right to happiness (not contentment, a very different flower…), we can become so set on what 'should be' that the very real joys of what 'is' elude us.
This holiday weekend that too often becomes a tag game of retail darkness, an excuse to OD on tryptophan, a nightmare of family expectations, can also be a gentle reminder. Happiness may be right in front of us. It just takes a re-framing, a refusal to be the victim of circumstance. And nieces. And nephews. And sons.