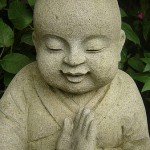 I believe in baby enlightenments — little things that illuminate your day, your practice, change some profound (although possibly small) piece of you and/or your life. Kind of hard to put in words!
I even wonder if that's the whole thing — these small signposts along the Way that signal you're on the right path. Like the white stones in the fairytale :). So you don't lose hope…
I don't remember my first one, but the one yesterday washed over me like music. You really don't expect transcendence on a hot Saturday morning, driving to the Farmer's Market. 🙂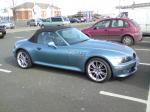 Dido on the radio ~ nothing I have is truly mine ~ and the world shifts into slow motion, into a clarity like every edge was sharpened.
What if awakening — enlightenment — is simply this? I thought… What if it's just 'waking up' to the world around us? These green trees, the water brown and still in the river next to the road… What if it's really that simple?
What if all we have to do is literally WAKE UP! Smell the grass smell from the freshly mown median. Look up at that searing summer sun. Just be here now, as Ram Dass says. Just wake up…
What if it's really that simple?