"There were two ways to be happy: improve your reality, or lower your expectations"
― Jodi Picoult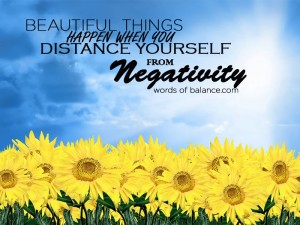 Question submitted via Formspring:
"How can I use the Law of Attraction to remove negativity? I believe with all my heart I'll achieve my goals, but people around me are always telling me it will never happen. Now I am over thinking it and afraid I'm making it harder for things to manifest. What should I do?"
We talked recently about how to avoid disappointment and feel at peace, and a big part of that was managing your expectations. We aren't upset about how things are, but that things aren't how we want them to be.
One of the hardest things to grasp about mastering the Law of Attraction
is being committed to what you want, without being attached to when or how it manifests. You have to trust that the Universe knows what you need even better than you do. Your job is to be clear on what you want, and take action towards creating it every single day. Everything else is up to the Universe.
Opinions vary as to whether or not you should talk about what you are manifesting with other people or not, since the truth is most people won't be able to see past your current state, and your goals will sound silly. So, if you are the type of person that having people doubt you is a positive motivator to work harder to prove yourself, then by all means, tell the world. However, if you are the type of person that having people doubt you will make you start doubting yourself, then don't share it with anyone. In the end, it's not up to them anyway; it's between you and the Universe.
So if you are having trouble with people in your life not believing your goals are going to manifest, the solution is simple: Stop talking to them about it! Remember, it's always easier for them to pull you down and laugh than to take responsibility for changing their own lives!
If you stay focused, and most importantly take action *every day*, your goals will manifest, it is inevitable. And when they do, you won't have to explain anything to anyone, they'll see it for themselves!
What do you think? Feel free to comment down below!
You are great, and I love you!
And if you love me back, click 'share' up at the top!
B. Dave Walters Writer, Life Coach, and Talk Radio Host
Find out more about me: http://about.me/BDaveWalters
Ask me anything: http://formspring.me/BDaveWalters
Pages I support:
Jesus and Buddha — Interfaith dialog
Gnostic Theism — Religion and Spirituality for the 21st Century (Join the Movement!)
Love One Another — A group for the coolest Spiritual people on the Internet!