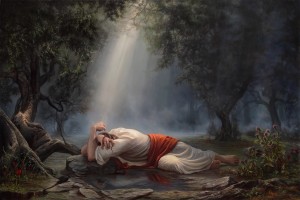 "Difficulties strengthen the mind, as labor does the body."
― Seneca
On a recent episode of Rise UP with B. Dave Walters: Simple Answers to Life's Hard Questions we talked about getting up after falling down: Being true to yourself, why we have difficulties, how to trust, how to forgive, how to create what you want in life, and much, much, more.
One of the things we talked about was the fact that it's okay to not be okay. There's an idea floating around in some members of the self-development / Law of Attraction community that you can never have a bad day. That even admitting that you are feeling anything other than wonderful is some sort of mortal sin. To which I would respond with:
36 Then Jesus went with his disciples to a place called Gethsemane, and he said to them, "Sit here while I go over there and pray." 37 He took Peter and the two sons of Zebedee along with him, and he began to be sorrowful and troubled. 38 Then he said to them, "My soul is overwhelmed with sorrow to the point of death. Stay here and keep watch with me."
39 Going a little farther, he fell with his face to the ground and prayed, "My Father, if it is possible, may this cup be taken from me. Yet not as I will, but as you will."
Matthew 26:36-39 (NIV)
This passage is important for at least three reasons: First, if Jesus Christ, one of the greatest spiritual teachers of all time can feel down, *anyone* can. Second, if he can admit it to his closest confidants, *anyone* can. And third, notice what he does next.
Does Jesus keep whining, moaning, complaining, or feeling sorry for himself? No. He turns it over to God and releases it. He does all that he can, and trusts that everything will work out for the best.
That's an important distinction: Things may not work out how you want them to, but that doesn't mean they aren't working out for the best.
So when you are having what may not be your best day, just remember: Admit it, vent if you need to, release it and keep moving forward; ever forward.
What do you think? Feel free to comment down below!
You are great, and I love you!
And if you love me back, click 'share' up at the top!
B. Dave Walters Writer, Life Coach, and Talk Radio Host
Find out more about me: http://about.me/BDaveWalters
Ask me anything: http://formspring.me/BDaveWalters
Pages I support:
Jesus and Buddha — Interfaith dialog
Gnostic Theism — Religion and Spirituality for the 21st Century (Join the Movement!)
Love One Another — A group for the coolest Spiritual people on the Internet!