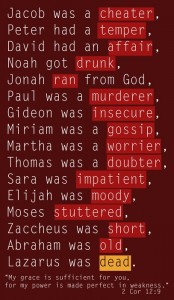 Question submitted via Formspring.Me/BDaveWalters:
"What are some Bible verses I can share with a relative who just went to jail?"
The Holy Bible is a source of inspiration for Jews, Christians, and even Muslims all over the world. The real strength of the Bible is not that it is some big collection of 'thou shalt nots,' but stories about real human beings making real human mistakes.
Jacob was a cheater, Peter had a temper, David had an affair, Noah got drunk, Jonah ran from God, Paul was a murderer, Gideon was insecure, Miriam was a gossiper, Martha was a worrier, Thomas was a doubter, Sara was impatient, Elijah was moody, Moses stuttered, Zaccheus was short, Abraham was old, and Lazarus was dead!
A favorite thing of mine to do is pick up the Bible, think of my question, and open it. The first words you fall on is the answer to your question. In the mean time, enjoy these verses for comfort when times are tough.
Above all else, remember this: No matter who you are or what you've done, while there's life, there is hope.
Psalm 69:33 "For the Lord hears the needy and does not despise his own people who are prisoners." (ESV)
Hebrews 13:3 "Remember those who are in prison, as though in prison with them, and those who are mistreated, since you also are in the body." (ESV)
Matthew 25: 34 – 40 "Then the King will say to those on His right hand, Come, you blessed of My Father, inherit the kingdom prepared for you from the foundation of the world: for I was hungry and you gave Me food; I was thirsty and you gave Me drink; I was a stranger and you took Me in; I was naked and you clothed Me; I was sick and you visited Me; I was in prison and you came to Me. Then the righteous will answer Him, saying, Lord, when did we see You hungry and feed You, or thirsty and give You drink? When did we see You a stranger and take You in, or naked and clothe You? Or when did we see You sick, or in prison, and come to You? And the King will answer and say to them, Assuredly, I say to you, inasmuch as you did it to one of the least of these My brethren, you did it to Me." (NKJV)
Psalm 102:18-21 "Let this be recorded for a generation to come, so that a people yet to be created may praise the LORD: that he looked down from his holy height; from heaven the LORD looked at the earth, to hear the groans of the prisoners, to set free those who were doomed to die, that they may declare in Zion the name of the LORD, and in Jerusalem his praise. " (ESV)
1 Peter 5:6 -7 "Humble yourselves therefore under the mighty hand of God, that he may exalt you in due time: Casting all your care upon him; for he cares for you." (KJV)
2 Corinthians 3:17 "Now the Lord is that Spirit: and where the Spirit of the Lord is, there is liberty."(KJV)
Galations 5:1 "Stand fast therefore in the liberty wherewith Christ hath made us free, and be not entangled again with the yoke of bondage." (KJV)
Philippians 4:13 "I can do all things through Christ who strengthens me." (KJV Ad.)
Psalm 51 (New International Version)
1 Have mercy on me, O God, according to your unfailing love; according to your great compassion blot out my transgressions. 2 Wash away all my iniquity and cleanse me from my sin.3 For I know my transgressions, and my sin is always before me. 4 Against you, you only, have I sinned and done what is evil in your sight, so that you are proved right when you speak and justified when you judge. 5 Surely I was sinful at birth, sinful from the time my mother conceived me. 6 Surely you desire truth in the inner parts; you teach me wisdom in the inmost place. 7Cleanse me with hyssop, and I will be clean; wash me, and I will be whiter than snow. 8 Let me hear joy and gladness; let the bones you have crushed rejoice. 9 Hide your face from my sins and blot out all my iniquity. 10 Create in me a pure heart, O God, and renew a steadfast spirit within me. 11 Do not cast me from your presence or take your Holy Spirit from me. 12 Restore to me the joy of your salvation and grant me a willing spirit, to sustain me. 13 Then I will teach transgressors your ways, and sinners will turn back to you. 14 Save me from bloodguilt, O God, the God who saves me, and my tongue will sing of your righteousness. 15 O Lord, open my lips, and my mouth will declare your praise. 16 You do not delight in sacrifice, or I would bring it; you do not take pleasure in burnt offerings. 17 The sacrifices of God are a broken spirit; a broken and contrite heart, O God, you will not despise.
And as always: if God be with you, who can stand against you?
You are great, and I love you!
And if you love me back, click 'share' up at the top!
B. Dave Walters
Writer, Life Coach, and Talk Radio Host
Find out more about me:
http://about.me/BDaveWalters
Ask me anything:
http://formspring.me/BDaveWalters
Pages I support:
Jesus and Buddha — Interfaith dialog
Gnostic Theism — Religion and Spirituality for the 21st Century (Join the Movement!)
Love One Another — A group for the coolest Spiritual people on the Internet!