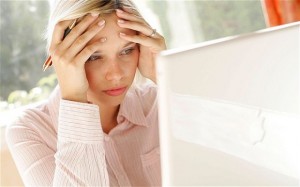 Question submitted via Formspring:
I had this date with a guy nearly a month ago, there were hints that he likes me, and he said he would like to see me again. He also said that he would like to cook for me and stuff; but now he barely answers my emails. He has exams at the moment, but should I confront him?"
The short answer is, no: don't confront him. After a month of dating, 'confront' shouldn't be anywhere in your vocabulary. Part two of the short answer is: Move on, it's not going to work out.
Let's look at this in more detail: You had a date a month ago…'A' date. There were hints that he liked you (what hints?) He said he'd like to see you again, which seems to be a good sign; he also said he'd like to cook for you. But, now he 'barely answered your emails'…define barely? How often do you email him, and how often does he reply? Does he reply to every message, but take longer than you want him to? Finally, you know for sure that he's got exams…but you want to confront him about it, anyway?
Think about that for a moment.
It's been a month…a month isn't a lot of time; and you only went out one date. One date isn't a very firm foundation to be building any sort of expectations on. And as you said, he IS replying to you, but not as often as you'd like, and you also know that he's busy with classes.
And yet, I said you should move on; why? Because, one of two things is happening: Either he's not that into you, and doesn't know how to tell you; or, you are looking something from this relationship that he can't give you. Either one ends up in the same place: nowhere.
You should also take this time to work on loving yourself first. If you have an unshakeable foundation of love and acceptance of yourself, you'll be able to be cooler and more patient in relationships, and not necessarily cling so tightly to a guy so quickly.
You are great, and I love you!
And if you love me back, click 'share' up at the top!
B. Dave Walters Writer, Life Coach, and Talk Radio Host
Find out more about me: http://about.me/BDaveWalters
Ask me anything: http://formspring.me/BDaveWalters
Pages I support:
Jesus and Buddha — Interfaith dialog
Gnostic Theism — Religion and Spirituality for the 21st Century (Join the Movement!)
Love One Another — A group for the coolest Spiritual people on the Internet!