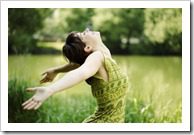 What if someone gave you a pair of classes that changed the way you saw the world? What if all your judgments and fear were dissolved and you saw only love? How would your life change? Would it change your life?
Your imagination is very powerful. Use it right now to imagine your life free of fear and full of love. Imagine a world filled with love. The news is filled with happiness, joy and celebration. You are surrounded by angels that guide you and help you create a wonderful life. Love is the dominant emotion in your life and you feel free.
See it, feel it and know it is so. Think about it often and watch your life change.
Calling the angels into your home
Read more Fearless Fridays:
• 5 Ways Fear Can Improve Your Life
• 7 Ways to Overcome Fear
• Inspirational Quotes on Fear
• View all Fearless Fridays posts
With love and aloha,
Susan
Angels are everywhere just open your mind and your heart to the signs.
Make Angels on Your Shoulder part of your daily routine and share it with a friend!