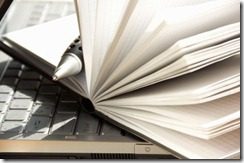 Every day I get at least one thank you note from someone who reads my Daily Reflections. It dawned on me that many of my readers here at Beliefnet don't even know they are available and that they are free.
Here are some of my thoughts about them and some of the thank you letters I have received. There is also a sign up link as well. I never ever share your email with anyone. I hope you avail yourself of them.
I just wrote this for a page I am putting together and thought of you:
My Daily Reflections
They are simple, they are daily and they are free.
Sometimes a simple thought, a new way of looking at things can change your whole life.
What if each day you were gently reminded of your perfection and felt just a bit more loved?
What if you were able to change your life for the better thought by thought?
If there was a little voice reminding you to love yourself and you felt that love – how would that affect your life?
My Daily Reflections will do that and so much more …..
Here is what other people are saying about my Daily Reflections:
Some days I know you have read my mind and answered my thoughts. Your messages always arrive at the right time. I can't thank you enough for these gems.
With lots of gratitude,
Jan
In a world full of spam the delete button is my best friend. When I see your messages I never mind spending a few minutes reading your words. They always make a difference in my day. Thank you so much for your love, wisdom and grace.
Lovingly,
Helen
You are a loving guide, gently urging me on to greater and greater happiness, success and joy. Thanks for your messages. I look forward to them every day. Please don't ever stop writing them!
Namaste,
Sam
HI Susan,
I have to tell you how inspiring your emails are to me…. I've been keeping my space open for the possibilities that are coming.  You see I've been out of a traditional job for the last 3 months and have been stressing over it, but the calling (that I keep denying) is to do healing and my own practice.  So now that I'm been doing my deep breathing and getting energized, the visions are so much clearer and full of love and support.

How amazing it is….  so thank you, for your kind words of wisdom and inspiration.
Aloha,
Cindy
I cannot thank you enough for it.  They have been timely in milestones in my journey, and they are so incredibly beautiful and insightful.  I have resonated with every single one of them, and I look forward eagerly to reading them whenever I see your name pop up in my Inbox.
Thank you for your beautiful work, as it uplifts and centers me, as well as fills me with peace and joy …. and I am sure that I am not the only one.
I am also sure that my e mail is amongst the countless others that you receive but I just needed to express my gratitude.
Love Always
Reena
Hi Susan,
I recently subscribed to your daily messages. I wanted you to know that your messages have been so helpful and meaningful to me.
Your messages have helped me be aware that I need to be open to receiving life's messages.
Just wanted to let you know that you are helping me. Thank you! Have a wonderful day!
Anna
Hello Susan,
Today's message really touched me (as do most of them do).  I'm so grateful that teachers such as yourself came forth on my soul's journey for enlightenment and peace.  I so much look forward to your daily wisdom and podcasts.  Keep 'em comin'
With lots of love and aloha right back at you, Namaste!
Dave
Hi Susan,
Thank you for these.  They create such a difference in my life as I am sure in thousands of other people also.  It just dawned on me today after reading this that even with all of your knowledge, you continue to study.  It was an epiphany for me because I have noticed that if I do not focus on these things daily, I tend to lose them rather quickly.
Thank you for sharing your knowledge and also being of wonderful example of how this is a lifelong learning process.
Sincerely,
Lori
Dear Susan,
I am grateful for your loving work.
Heartfelt thanks,
Joan
Dear Susan,
Thank YOU for being part of my life. Although we may never meet, I am grateful for your messages. Sometimes I laugh out loud with the joy of your thoughts; sometimes I feel a twinge of sadness or nostalgia. Always, always, you give me something to ponder and use on my own journey.
Sincerely,
Gai
Good Day Susan,
I just had to write and tell you how inspiring your daily messages are to me. There are alot of people out there with some good messages but YOURS ARE MY FAVORITE!! Thank you for being such an inspiration to me!
Hugs Donna
Dearest Susan,
Having been reading your daily reflections for some time,
I've experienced it, as a savouring welcome, to help me get out of a years-long numbing state of being.
Thank you so much, for these healing & wonderful thoughts I receive.

Might Our Father Bless you with all the good work you're doing.
Warmly,
Maureen
Susan,
I just wanted to take a moment and "Thank YOU" for your Daily Reflections work.  You are truly an inspiration to so many and your words are so eloquently stated.
Sending love and light to you always ~ Mahalo, Sandy
Thank you … I love this message, Susan
I would also like to thank you for replying to my email the other day, and for the meditations you sent. My 27 year old daughter (one of your subscribers and admirers) is having major surgery on Friday this week, and my 30 year old son is currently suffering from a severe episode of anxiety and depression. Your meditations are soothing, grounding and healing for us all, and are greatly appreciated.
With love and gratitude,
Joan
Hello Susan: I know you're a busy teacher but I've wanted to thank you for keeping us inspired and for keeping us in touch for whom we are, for your grace and for your unconditional love. I deeply and truly thank you.
Much light to you, Manuel
Susan, You reminder today was just what I needed to hear — to focus on gratefulness, joy, love rather than laundry lists of worries, woes, and world business! Been working on my grateful list and it really does help!! Thanks for your inspiration, guidance and love! Blessed Be! Namaste! Meera
Hello Susan
I thank you for the beautiful meditation.
With love, gratitude and acknowledgement I will use this meditation for my group tonight!!!
Love, love, love
Amanda
Hi Susan,
I meant to send the below e-mail to my husband and I mistakably "replied" to you, instead. Every once in a while I share your daily reflections with him. So now you know I enjoy your "Daily Reflections" so much that I share them with those I love!!   Julie
Calling the angels into your home
With love and aloha,
Susan
Angels are everywhere just open your mind and your heart to the signs.
Make Angels on Your Shoulder part of your daily routine and share it with a friend!