Unplugged from the day to day world for a bit should be a mandatory prescription for our well being. I have recently returned from a trip out west to the beautiful community of Xeni Gwet'in First Nations where I had the honour of sharing love and healing. There is no cell phones and some internet so you can really unplug from the regular world of news, noise, and electronics. Sitting outside hearing nothing but nature is amazing.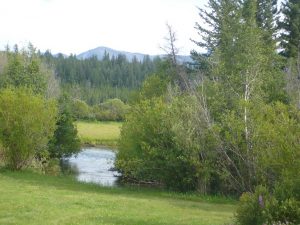 Last trip out I stayed in a log cabin beside a creek with no internet. I did manage to do some writing, but I have to say, being unplugged every evening and sitting by the creek looking at the mountains truly soothed my soul. This time I stayed further down the valley, still by a wonderful creek where I could have my morning meditations, but I was a bit closer to people and had internet…still unplugged and only used it minimally as power is solar or generator and I wanted to connect with the land.
I did have to be consciously alert for bears as they are fattening up for their winter slumber. The wonderful B & B I was staying at…shout out to John and Tracy at Snowy Mountain Outfit had a big dog, Snow Wolf, who would take me for walks on the property and join me by the creek in the mornings for my meditation. He also provided me with much love and entertainment. He did desert me in the bush my last night when I was offing a gratitude ceremony in the tee-pee sacred space Tracy has set up when one of the horses came flying out of the bush at a dead run. I quickly finished what I was doing and got myself back as I am sure there was something else out there we didn't want to run into lol.
I did see my grizzly bear cub again. The same one as last time. He stopped this time and made eye contact with me. It was a kind of a surreal experience. I did not want to stop my truck, for I do not want him to get used to us. I was however going slowly since, like last time, he crossed my path just as I was leaving the territory. I do feel like he is a spirit animal for me and I will continue to work on strengthening that connection we made.
Your Angel Guidance is to find ways or places where you are unplugged from the mental world for a bit
Now that I am home from my big adventure I feel amazing. Things are flowing and happening really fast for me. Like the angel readings have been saying that I share most days…get ready for when things start to move for it will be quick, it is what you've have been waiting for and they were right…more on that soon.
Love and blessings, Sharon and the Angels
Sharon's book contains lots of wonderful ways to work with the angels and Amazon has it on sale right now! Angel Guidance, Messages of love and Healing or get the kindle and begin reading a page today!