Of course your angels are sending signs. Your angels send you signs such as feathers, sparkling lights, and meaningful songs. These are just some of the ways your angels are giving you signs, answering your prayers, and letting you know they are there.
What signs do you notice the most?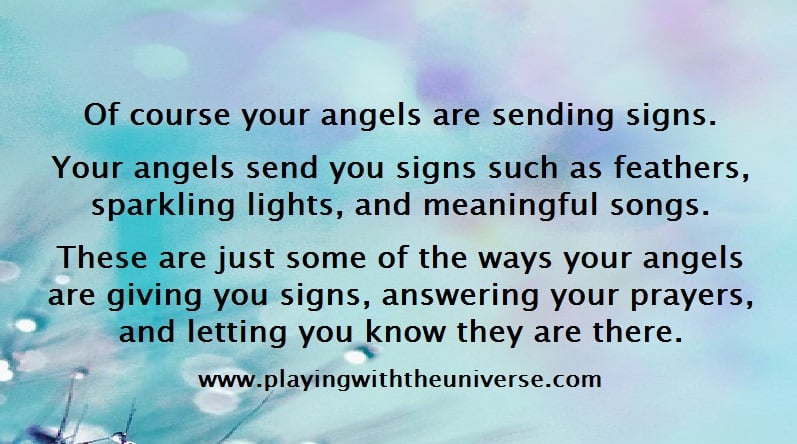 One of my favourite signs are songs. When I have asked for a sign and get in my car and hear the answer in the song playing, it always makes me smile.
Remember that Symbols are only as important as they are to the person experiencing them. Meaning, what it means to you is always the most important thing. You don't always need to follow what another teacher tells you it should mean or even what I tell you it should me. I did a bit of research when I was first asked this question and found that most meanings went along the lines of the traditional chakra colours and their meanings. I also found it went along with most of the colour therapy teachings.
I like to see how things work so I encourage you to play with them. That is why I called my website playing with the universe, I like to experiment. If it works for me when I use it, then I will continue to use it. It is truly about your intentions are and what you believe. You can assign anything to them really. Being open is the most important thing.
Your Angel Guidance is to remember your angels are sending signs:
Be open to how the angels are sending signs your way. Don't stipulate the how. Just become more aware as you go about your day and let it be a surprise that leaves no doubt it was meant for you!
Love and blessings, Sharon and the Angels
The angels are sending signs to get Sharon's book Angel Guidance, Messages of love and Healing or get the kindle and begin reading a page today!
Like what you read, Buy Sharon a cup of Coffee