Angelic Assistance can help you through the changes and challenges of these shifting times. I don't know what I would do without the comfort of the love and support I feel when I invoke my angelic crew.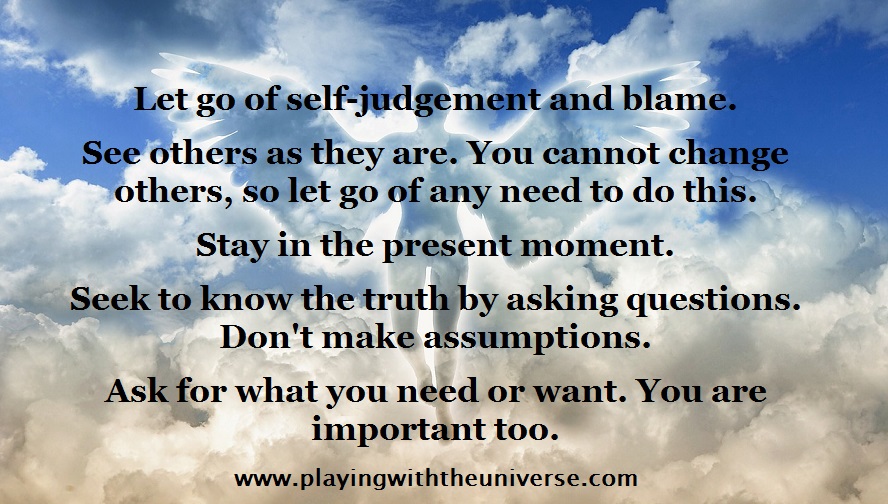 I have been receiving quite a few requests for help from my readers who have been going through tons of stuff on many levels. Most of them are beautiful lightworkers so they have taken on a lot of peoples stuff. Often times lightworkers take responsibility for their loved ones and even the world around them. They are so beautifully kind-hearted that they feel so very deeply the wounds of others.
Here are Five tips to help you through challenging times:
Let go of self judgement and blame.
See others as they are. You cannot change others, so let go of any need to do this.
Stay in the present moment. When you keep your attention on today, it makes each step easier to handle. Don't worry about tomorrow, for it will never really come.
Seek to know the truth by asking questions. Don't make assumptions. The truth always has the power to set you free.
Ask for what you need or want. You are important too.
Your Angel Guidance is to Ask for Angelic Assistance to help you through the tough times :
Find the courage to ask for help! You deserve to have help too. We want nothing more than for you to believe in yourself, believe in your strength and put all of your focus on just doing your best!
Love and blessings, Sharon and the Angels
The best Angelic Assistance we can give you is to get Sharon's book Angel Guidance, Messages of love and Healing or get the kindle and begin reading a page today!
Like what you read, Buy Sharon a cup of Coffee-+