The Four Agreements is a beautiful and yet simple book of Toltec Wisdom by Don Miguel Ruiz that I highly recommend for any seeker on a spiritual journey.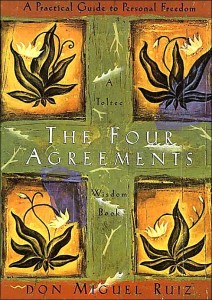 The first agreement is 'Be Impeccable with your Word'
This means to speak with Integrity.
Say only what you mean.
Avoid using the Word to speak against yourself or to gossip with others.
Use the power of your Word in the direction of Truth and Love.
When you incorporate this first agreement into your life it begins to change your life in a wonderful way. It is so much simpler to speak your truth and choose your words carefully. When you do this and remember to speak from the "I", you are taking responsibility for what you are putting out in the world, but also take away the possibility of regret and the need for forgiveness for yourself and your actions.
It is not always easy at first as we are trained to not always speak from ourselves or our own heart, but from the expectations of others or society, what is acceptable to others. This training has often been ingrained since childhood so retraining ourselves can take a bit of work.
When I first began working with the angels, they would always say that it is okay to slow down and think with your heart before you speak. Use your heart as your filter with your words and say how you feel. Never use blame or victim-hood as an excuse to behave badly. You are 100% responsible for the thoughts and feelings you choose to keep as your own.
Use affirmations to help you to keep your focus while you are retraining your thoughts to support your growth and understanding. Here is a wonderful article we wrote awhile ago on creating affirmations and some sample ones to get you started. http://www.beliefnet.com/Inspiration/Angels/Affirmations.aspx
I like to write mine on recipe cards and keep them in my purse or bag so they are handy when I am waiting for others as well as keep them at my bedside and read them last thing before I go to sleep and first thing when I wake up in the morning so I can start my day in a good way. Once I have transformed my thoughts and feelings, I file it away and create new ones that are in keeping with the new me that is emerging.
Your angel guidance is to practice being Impeccable with Your Words. Slow down and become more aware of the thoughts and words you are putting out into the world and enjoy the difference it makes in your life.
Have a wonderful day, Love and Blessings, Sharon and the angels