I always like to look at the most popular posts for the month on my Angel Wisdom site (http://playingwiththeuniverse.blogspot.ca/) where I post the daily angel messages I have been sharing everyday for 8 years now. This months common thread between that and social media is about Change and taking your power back, empowering yourselves once again. I think that change is something we generally resist and yet it is s true sign that we are evolving on a personal and a global level. "As within, so without".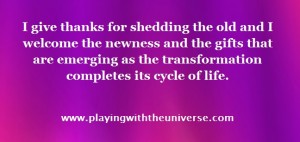 There has been much change happening. For some it is changes of location, cities, towns, new jobs and livelihood. These changes are part of what you came here to experience as you retake you power and become the magical beings you came here to be. Change is not usually easy as most of us resist the change instead of just going with it, trusting in the Universe, and enjoying the ride.
Although it doesn't always feel pleasant at the time, these changes bring you great blessings and are truly answers to your prayers. Change means that you are evolving, as you should be. Ride the wave with the focused intention of opening yourself up to whatever is before you and trusting that it is all unfolding as it should. This s the perfect time to act upon your ideas and ,inspirations and make your own dreams come to life.
Use desired affirmations of what it is you would like to create and keep them with you during these time of transformation. You are always using affirmations, it is that you don't always listen to what you are saying. Desired affirmations can help you keep your focus on creating what you desire, not what you don't.
Your angel guidance is to remember that everyone and everything are on your side, supporting you in many different ways. If the current path you are on seems particularly arduous, know that you are being asked to release something that no longer serves you and as this energy is released, a beautiful new you will emerge, like a butterfly from its cocoon to face a brave new world of your creation. Allow this new path, this new opportunity to open up for you and trust that it is so.
Affirmation: "I give thanks for shedding the old and I welcome the newness and the gifts that are emerging as the transformation completes its cycle of life."
Here is an article we wrote a while back with some ideas on Affirmations. What is key in making affirmations is to ensure you aren't canceling out your little mantra and that it is what you want, not what you already have.
7 Affirmations to Help Change Your Life
Read more at http://www.beliefnet.com/Inspiration/Galleries/7-Affirmations-to-Help-Change-Your-Life.aspx
Have a great week, share a bit of your heart light with all who you touch and see if you don't notice wonderful changes start happening around you.
Love and blessings, Sharon and the Angels