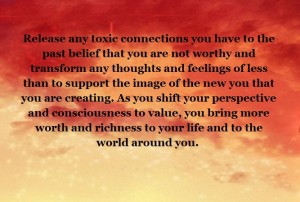 Your sense of value and self worth are paramount for good health. When you put your own health and well-being first, it allows you to be of better service to your life and also the lives of others. Ensuring you have restored your own personal resources puts you in a place that allows you to have the energy to make a true difference in your world and that is a great gift.
Truly believing that you are worthy is an important stage upon the path of awakening. Oftentimes you have been lead to believe that you are not worthy in teachings of the past, by those you love, by the religions of the times, or by the ideals of the self that have been set as an unrealistic standard which are nearly impossible to achieve. It matters not what or where the origin of this belief began, what is most important is that you become aware of the need for this healing and transformation. When you have felt devalued or criticized by the words or even thoughts of self and others, it causes doubt in your own value. This state of mind hinders your abilities to be of service and it is important to transform these, not only for your own sake and health, but also for those you love and those whose lives you touch each and every day.
Becoming aware that your own thoughts and feelings about yourself and your life are important. You no longer need to be influenced by the negative vibrations of others. As soon as any thoughts or feelings of less than, or unworthiness arise, cancel them, clear them, and transform them to wanted thoughts and feelings. Release any toxic connections and know that you are free to define and value yourself no matter what is happening around you. This self-worth and how you value yourself is very much tied to your overall health and healing and once transformed will change your life in many ways.
Your angel guidance is to release any toxic connections you have to the past belief that you are not worthy and transform any thoughts and feelings of less than to support the image of the new you that you are creating. As you shift your perspective and consciousness to value, you bring more worth and richness to your life and to the world around you.
Love and blessings, Sharon and the Angels