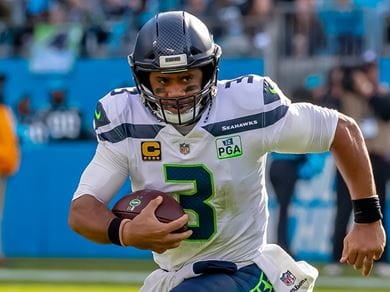 Grindstone Media Group / Shutterstock.com
Faith:

Christian

Career:

Athlete

Birthday:

November 29, 1988

Accomplishments:

super bowl champions, NFL

Fun Faith Fact!:

The NFL player picked the number three for his jersey because of the Holy Trinity.
Russel Wilson is an American football quarterback for the NFL. The athlete was born in Cincinnati, OH, but raised in Richmond, VA. Wilson was the middle child of his parents' three children. He grew up playing sports with his older brother, Harry, who fostered his love for athletic competition.
In high school, Wilson was on almost every sports team. However, he discovered that football was his passion and focus. In college, he went on to have many successful seasons at N.C. State and Wisconsin. Despite his phenomenal collegiate career, the 5'11" athlete was seen as "too small" for professional football. Despite this perception setback, Wilson became an outstanding quarterback for the Seattle Seahawks. In only his second season with the team, he led them to a Super Bowl victory.
Wilson married his high school sweetheart Ashton Meem in 2012, but they divorced two years later. The football star then started dating the famous R&B singer Ciara, and they tied the knot on Jul. 6, 2016. Their relationship gained a lot of media attention after it was revealed that they were practicing abstinence until their wedding night so they could go about the connection according to God's will. The famous couple has two children. Their daughter, Sienna Princess Wilson, was born on Apr. 28, 2017. Their son, Win Harrison Wilson, was born on Jul. 23, 2020.
Wilson has always boldly stated his Christian faith to the public. The NFL star always gives God the glory for his success on and off the football field. Wilson explained an occurrence he had when he was a child of Jesus appearing in his dream and speaking of his late father. He instructed him to find out more about him. That following Sunday, a young Wilson went to church. Ever since then, his faith was strong.
The assumption was that Wilson chose number three for his jersey because he was the third-round pick for the Seahawks. However, Wilson stated that he chose the number to honor the Holy Trinity of the Father, Son, and Holy Spirit.
Back to the Celebrity Faith Database