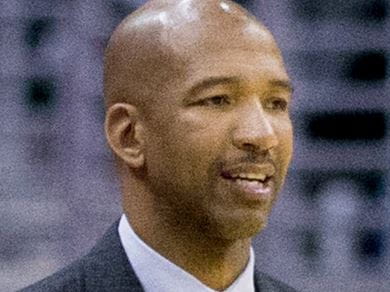 Wikimedia Commons
Faith:

Christian

Career:

Athlete

Birthday:

October 08, 1971

Accomplishments:

nba finals, NBA

Fun Fact:

Coach Williams gave glory to God in a press conference following the Phoenix Suns' victory over the LA Clippers in the Western Conference Finals.
Tavares Montgomery Williams is a former professional basketball player and a current American Professional basketball coach. Coach "Monty" Williams is not only known for his successful coaching of the Phoenix Suns in the NBA finals this year, but he's also making an impact by speaking out about his Christian faith. In an interview, Williams stated that his faith helped him motivate his players.
Williams's excellent coaching skills led the National Basketball Coaches Association to grant him the "Michael H. Goldberg Coach of the Year Award" in May 2021.
His relationship with Jesus also helped him after tragedy struck in his personal life. In 2016, William's wife and children were involved in a car accident after a driver under the influence of methamphetamines hit their car. Their children survived, but unfortunately, his wife Ingrid passed away.
"Psalm 73:1 says God is good. 1 John 4:16 says, God is love. During times like these, it's easy to forget that because what we've gone through is pretty tough, and it's hard, and we want an answer. But we don't always get that answer when we want it. And we can't lose sight of the fact that God loves us," he spoke about the scripture in his eulogy for his late wife at the funeral. "Everybody is praying for me and my family, which is right. But let us not forget that there were two people in this situation. And that family needs prayer as well. And we have no ill will towards that family. In my house, we have a sign that says, 'As for me and my house, we will serve the Lord' (Joshua 24:15). We cannot serve the Lord if we don't have a heart of forgiveness."
Image courtesy of Wikimedia Commons
Back to the Celebrity Faith Database