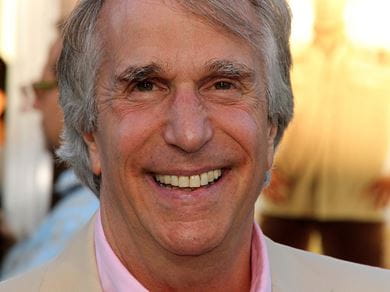 s_bukley / Shutterstock.com
Faith:

Judaism

Career:

Actor

Birthday:

October 30, 1945

Fun Fact:

Winkler is the son of German Jews who escaped the Holocaust.
Henry Winkler is an actor, producer, author, and comedian. His rise to fame started with his role as Fonzie Fonzarelli on the hit show "Happy Days." His other iconic roles include Arthur Himbry in "Scream," Barry Zuckerman in "Arrested Development," and Coach Klein in "The Waterboy." He's won numerous awards, including two Daytime Emmys, a Primetime Emmy, and two Golden Globe Awards. During his time on "Happy Days," Winkler was diagnosed with dyslexia.
After his success as Fonzie, Winkler realized he was typecasted and transitioned into directing and producing. He helped create the original MacGyver television show and worked on shows like "Hollywood Squares" and "Sightings."
Is Henry Winkler religious?
Although Winkler's family didn't keep kosher, he was raised in conservative Judaism traditions. His parents were living in Berlin during the rise of Nazi Germany. By 1939, Winkler's father decided it was time to leave Germany for good.
In a 2019 NPR interview, Winkler told Terry Gross how his father snuck his mother's jewelry out of Germany by pouring melted chocolate over it. When he got to Ellis Island, he sold the jewelry so he could start a new life in America. Winkler added that he still has the letters his father sent to the government requesting to stay longer.
Back to the Celebrity Faith Database