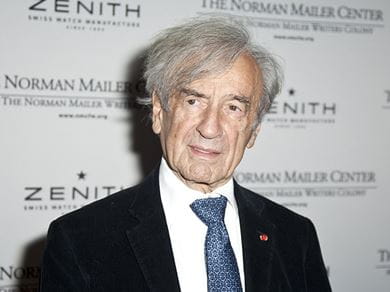 Lev Radin/Shutterstock.com
Faith:

Judaism

Career:

Author

Birthday:

September 30, 1928

Accomplishments:

Holocaust Survivor, Nobel Peace Prize Winner

Fun Fact:

In the family home, Wiesel grew up speaking Yiddish, German, Hungarian and Romanian.
Born in the Carpathian Mountains in Romania, Elie Wiesel's father instilled a strong sense of humanism and reason. In 1944, Germany occupied his family's village and they were all placed into a confinement camp prior to deportation to Auschwitz. The following year, the U.S. Third Army would liberate the camp and its prisoners, but only Elie and his two older sisters would survive.
After the war, Elie went to France and learned the language and began working as a journalist. It would take more than a decade for him to begin to rite about the atrocities he experienced during his captivity.
Elie Wiesel was the author of 57 books, and received more than 90 honorary degrees from colleges and universities.
Back to the Celebrity Faith Database