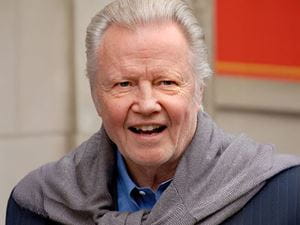 Wikimedia Commons
Faith:

Christian

Career:

Actor

Birthday:

December 29, 1938

Accomplishments:

Fun Fact:

Jon Voight was raised by his "devout Catholic" parents.
Jon Voight has been a big name in Hollywood for over 50 years. Known for his numerous movie roles and being the father of famous actress Angelina Jolie, Voight seemingly had it all. Despite decades of career successes, Voight still felt despair after his divorce and career fluctuations.
Amid his suffering, the Academy award-winner had a moment of clarity where he realized that his life had a deeper meaning. In an interview with Tucker Carlson on Fox News, Voight explained his direct encounter with the Lord. The actor said that while he was crying out "It's so difficult" on the floor of his house, he heard a kind and clear voice speak to him, "It's supposed to be difficult." At that moment, Voight knew that God was with him.
He credits the "fear of the Lord" to what keeps him on the right path. Voight declared that he strives to be a vessel for God and to serve His kingdom.
"Now, I know we're covered. Everything we think, everything we say, everything, it's known. They say God knows every bird that falls. We all are known. We're being observed and helped and loved," Voight spoke in amazement in the interview. "And we're expected to get up and do what's right. There's a purpose here. And the purpose here is to learn our lessons and grow. And what's the big deal? To give to each other and to be here and be of help."
Image courtesy of Wikimedia Commons
Back to the Celebrity Faith Database